Written by:
Tony Korologos
|
Date:
Tuesday, February 26th, 2013
Categories:
HOG World Tour
---
I´m typing on a Spanish keyboard so if any strange spellings or key strokes happen here please forgive me.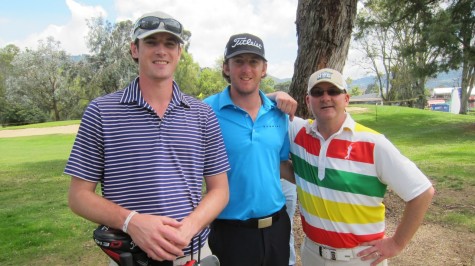 Today was an absolute blast here in Bogota, Colombia.  I had the great privilege of playing golf with the current Web.com Tour money leader Kevin Foley.  He won the first event last week in Panama and thus is the current money leader!  The blast part comes from how far he hits it here at about 9000 feet above sea level.  I figured out how to club off of Kevin, he hits his irons exactly 28 yards farther than I do.
Below is my caddie Arthur, who did a great job. When you and your caddie do not speak the same language, the communication can still be great, as was the case today.
The Pro-Am was a scramble for the amateurs.  I managed FOUR natural birdies and made an 80 foot putt!  My new Colombian knick name is birdie man.
Colombia Photos
I´ll be uploading photos throughout the week.  Check out the Colombia Championship image gallery.