Written by:
Tony Korologos
|
Date:
Sunday, January 20th, 2013
Categories:
Golf Apparel
•
Golf Gear
•
Reviews
---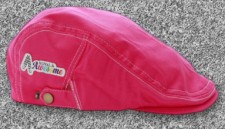 Fun but short review today.  I'm not going to do a 3,000 word review on a golf hat though the comments (mostly positive) I've gotten about the hat on the course have exceeded 3000 words.  This is the pink old school flat cap, Scottish style, from Royal and Awesome.
Features
The hat is 97% cotton and 3% spandex.  Whatever the reason for those percentages is fine with me.
Speaking of fit, there are adjustable buttons on each side which allow for adjustment and a one-size-fits-all gig.
Style/Comfort
I love flat caps.  I feel like Old Tom Morris when I wear one.  They're different feeling than standard golf caps.  More comfortable usually.  The Pink Ticket is most definitely comfortable.  The fit is perfect with both of the adjustment buttons on the loose setting.  If the wind kicks up (or my head shrinks for some reason) I can tighten the hat up to keep it secure.
Conclusion – I want to be Mr. Pink
Pink is the new black.  I love wearing this cap for the comfort and the unique style.