Written by:
Tony Korologos
|
Date:
Tuesday, January 8th, 2013
Categories:
European Tour
•
Pro Golf
•
Rory McIlory
•
The Masters
Tags:
Nike
•
Rory McIlory
---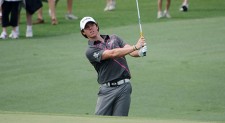 On Twitter Nike Golf mentioned a "big" addition to their tour staff would be announced on January 7th. That day was yesterday and the only player announcement I got from them was of the signing of Seung Yul Noh. Most of course, assumed the big announcement was that Rory McIlory would be joining their staff.
Now that I've received the official parting press release from Jumeirah Group, announcing the end of their 5-year deal with Rory McIlory (below), I would expect to see the Nike announcement coming shortly. Here's the Jumeirah press release below:
Jumeirah Group celebrates successful 5-year sponsorship of Rory McIlroy
Rory's role as Global Brand Ambassador for the Dubai hotel group came to a close at the end of 2012
Dubai, 8 January 2013: Jumeirah Group, the global luxury hotel company, and the Management Company of world number one golfer Rory McIlroy have jointly agreed to bring the sponsorship agreement which started in September 2007 to a close.
Jumeirah Group's sponsorship of Rory McIlroy began as soon as the young golfer launched his professional career at the age of 18. Since then, the Ulsterman has risen to become the world's number one golfer. In the same period, Jumeirah has doubled the number of hotels it operates around the world.
Rory McIlroy has been an ardent advocate of Jumeirah's hotels, staying in its properties in Dubai, Abu Dhabi, Shanghai, the Maldives, London and Rome, as well as participating in events with the company's guests, partners and employees.
Rory McIlroy commented: "Jumeirah became my first corporate sponsor when I turned professional back in 2007, and I would like to thank everyone at the company for their support in helping me become the player I am today. I have enjoyed five very exciting and successful years with Jumeirah and will always have great memories of my time with the company. Celebrating my first professional win at the 2009 Dubai Desert Classic with the Jumeirah team was a particular highlight!"
President and Group CEO of Jumeirah Group Gerald Lawless said: "We are extremely proud of Rory's rise to the number one spot with Jumeirah as his principal sponsor since he turned professional. We are delighted with his consistent support of Jumeirah hotels & resorts around the world. He has been a tremendous ambassador for our brand both as a consummate golfing professional and as a young man with a great future ahead of him. We wish him continued success and we will continue to share a passion for his achievements and to welcome him in each of our hotels."