Written by:
Tony Korologos
|
Date:
Monday, December 3rd, 2012
Categories:
Boneheads
•
Miscellaneous
•
Site News
---
Wow I can't believe it is December 3rd.  Before I award the 2012 Turkeys of the Year I should give myself one for posting this late.  I typically like to post the TOY awards on Thanksgiving.  Needless to say my schedule has completely changed with the birth of my new son, baby Seve.  Not much sleep around here lately.
For those who may be new to HOG, I've been awarding the Turkey of the Year awards now since clear back in 2005!  Previous winners include John Daly, Sergio Garcia, Tiger Woods…
And now, the 2012 HOG Turkey Awards.  The envelope please…
#10: Facebalk
Many golfers and golf companies use Facebook to interact with their fans.  I do too.  To date HOG has built up a little over 1400 fans.  For a small while I paid Facebook to advertise the HOG Facebook page and gain more traction and fans.  But recent changes in Facebook's algorithm have me turned off.  Those changes in the last few months mean that companies (like mine) who post status updates will only see a small fraction of their fans reading them. They admit to 15%, but that is a high number in my experience.  I've found that posts with outgoing links have even less exposure.  I worked hard to gain fans and even paid to advertise and gain likes, but I can't reach them now?  To the contrary.  I can reach them if I PAY to promote them.  This could be the beginning of the death of Facebook.
#9: Mashed Potatoes
"Get in the hole!" "You're the man!" "Mashed potatoes!"  If you yell this in a PGA Tour event, you are an idiot.  Idiot hecklers like this get a TOY award.  I especially hate it when some idiot yells "get in the hole" when Tiger Woods tees off on a par-5…  Boneheads.  Do us all a favor and SHUT UP.  It stopped being funny about a million years ago.
#8: PGA Tour / Host Venues
The PGA Tour and its host venues receive a Turkey award for not removing the above mentioned "get in the hole" boneheads.
#7: Chicken Man
I know he was pretending to be a chicken, but the guy who danced in front of the Ryder Cup ceremony is a turkey.  And I'm not posting his photo here.  Too much press for this bonehead already.
#6: Phil Mickelson
Phil Mickelson was looking good at the 2012 Masters at -8 in the beginning of the final round, until he arrived at the 4th hole.  Phil chose to hack an errant shot from the shrubbery right handed (he is left handed).  Phil ended up carding a triple-bogey, finishing TWO shots behind eventual winner Bubba Watson.  Do the math.
#5: John Daly
I'm so used to putting John Daly in the Turkey of the Year awards I'm doing it this time out of habit.  Aside from a putter toss, JD has been a relatively good boy this year.  He has even played some good golf.
#4: I.K. Kim
The LPGA's I.K. Kim had a 12″ putt to win the first major of the year, the Kraft Nabisco.  Instead, she blocked the putt right and entered a playoff with Sun Young Yoo.  Yoo won the playoff.
#3: Adam Scott
Adam Scott looked invincible for 68 holes at the 2012 British Open.  Then he recorded four straight bogeys to finish, leaving him one shot behind Ernie Els.  This was the best shot at winning a major Scott has ever had, and may ever have.  For all the talk about the anchored putter and the "advantage" a player has with one, it didn't seem to help Adam down the stretch.
#2: Jim Furyk
What a year for Jim Furyk.  Jim's nerves got the best of him when he hooked his tee shot on the par-5 16th in the U.S. Open.  The player who looked like a lock to win his second Open limped home, dropping the victory in the lap of Webb Simpson, who had finished earlier.  It was tempting to give the TV coverage a turkey in this event too.  If they covered any shot Webb hit in the final round, I must have been in the bathroom for it.
And the TURKEY OF THE YEAR award goes to… drumroll…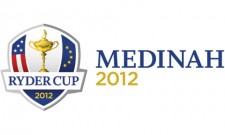 #1: USA Ryder Cup Team – Meltdown at Medinah
This year's #1 Turkey of the Year is the USA Ryder Cup team.  Blowing a huge 10-6 lead in front of their home crowd almost seemed impossible, but that's why they play the game.  Europe wins
HONORABLE MENTION: Lance Armstrong
I reserve the Turkey of the Year awards for the golf world. This year I have to give an honorable mention award to Lance Armstrong, who was stripped of his billion Tour De France titles because of performance enhancing drug (PED) use.