Written by:
Tony Korologos
|
Date:
Friday, November 30th, 2012
Categories:
Golf Life
•
Life
•
Miscellaneous
---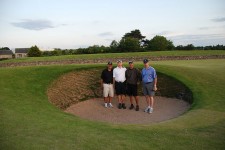 Most HOG readers know I have a big place in my heart for the "Auld Grey Toon," the home of golf, St. Andrews.  St. Andrews is one of the coolest towns in the world, if not THE coolest.  The whole place is about golf.  I've made one trip there so far, back in 2011 with three great pals.  We are pictured right in the Road Hole bunker.  At the time we had planned on saving up our dough and going back in 2014.  Having experienced the town and the golf in St. Andrews I vetoed the proposition of coming back three years later to do it again.  That was way too long to wait.  The guys agreed and we will be back there in July of 2013 again.  We have our first tee time on the Old Course at 1:40 p.m., July 3rd.
St. Andrews Day
Today is St. Andrews Day.  Happy St. Andrews day to HOG friends and patrons.
What is St. Andrews Day?  From Wikipedia:
St. Andrew's Day is the feast day of Saint Andrew. It is celebrated on the 30th of November in Scotland.

Saint Andrew is the patron saint of Scotland, and St. Andrew's Day (Scots: Saunt Andra's Day, Scottish Gaelic: Latha Naomh Anndra) is Scotland's official national day. In 2006, the Scottish Parliament designated St Andrew's Day as an officialbank holiday.

Although most commonly associated with Scotland, at least in the English-speaking world, Saint Andrew is also the patron saint of Greece, Romania, Russia, Ukraine and the Ecumenical Patriarchate of Constantinople.[1]

In Germany, the feast day is celebrated as Andreasnacht ("St Andrew's Night"), in Austria with the custom of Andreasgebet ("St Andrew's Prayer"), and in Poland as Andrzejki ("Little Andrews"–diminutive).
http://en.wikipedia.org/wiki/St._Andrew's_Day