Written by:
Tony Korologos
|
Date:
Thursday, October 18th, 2012
Categories:
Contests/Giveaways
•
Miscellaneous
•
Site News
---
The time has come to announce the winners of the Hooked On Golf Blog / Energy Athletic Facebook photo contest!  This has been a fun experiment and collaboration between HOG and EA.  We had some very neat submissions and a big surprise.  Here are the four winners below.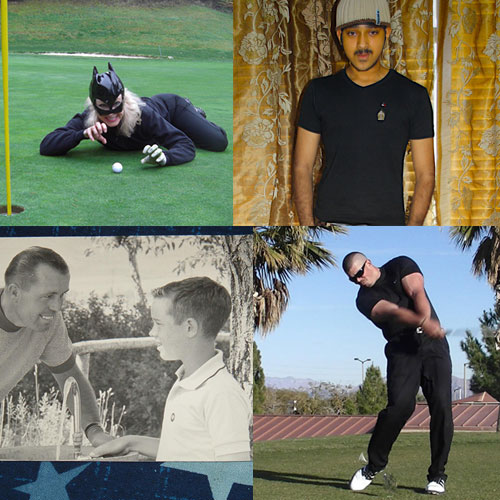 Above left: Stacy Brown is golf's version of Catwoman surveying a birdie putt, which she made!
Above right: Most liked photo by Evan Luthra had over 1200 likes! Having 100,000 twitter followers helps.
Lower left: Jeff Bricker's photo is very touching.  A young caddie and his uncle who won the club championship.
Lower right: Mike Dobbyn as posted by his friend John Hartline.  There is some "energy" in this shot for sure.
Conclusion
Congratulations to the winners and many thanks to Energy Athletic for the cool contest concept.  It was a learning experience and quite fun.  I'll work on more contests and giveaways to "thank" HOG patrons for their support!
Related
Energy Athletic polo review (long sleeve review coming shortly)
Energy Athletic website and Facebook page