Written by:
Tony Korologos
|
Date:
Sunday, October 7th, 2012
Categories:
Golf Accessories
•
Golf Gear
•
Reviews
---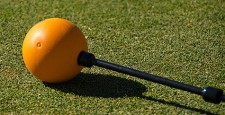 I get some funky golf product review submissions.  Today's is a golf swing trainer which looks like a long golf club with a golf ball on the handle end, and an orange on the other.  This is the Orange Whip swing trainer.
So what the heck is this thing and how is it going to convert weekend duffers to PGA Tour pros?
Concept
The Orange Whip is designed to teach and ingrain golfers with the fundamentals of the golf swing motion in both timing and swing path.  The unit's weight and flexible shaft helps golfers increase their flexibility and core strength.
Timing
The flex of the shaft helps golfers prevent jerky motions, somewhat similar to the hinged practice clubs which break down if the club's momentum changes to quickly.  This helps the golfer implement a smooth takeaway and more importantly a smooth transition at the top.
Plane
If the hands are manipulating the club, the weights of the Orange Whip will expose those issues and help correct them.  Swing plane problems, casting or going outside-in with the club, are exposed with the trainer.
Balance
The shaft's "whippiness" in conjunction with the weight, really helps accentuate balance issues.  Swinging the unit helps to bring better awareness to balance and keeping a solid base.
Exercise
The Whip can be used for 5-10 minutes per day as simply an exercise device.  The weighting of the club can provide a good workout for the arms, shoulders and especially core.
Models
The Orange Whip is available in three models:
Orange Whip Trainer – Standard unit for men and taller women: 47.5 inches, 1.76 pounds.
Orange Whip Golden – For users under 5'6″: 44 inches, 1.76 pounds
Orange Whip Hickory – For juniors 7-12 or for players whose shorter clubs/wedges can benefit from the drills.  38 inches, 1.3 pounds.
In The Garage, Back Yard, Living Room
I've been swinging the unit for a while.  Timing is definitely a part of my game which is accentuated.  My takeaway is fine, but my transition at the top can get a little quick.  The Whip helps me get that transition timing down.
As an exercise device this unit will come in handy, especially when the snow starts flying here soon.  I lose my golf muscles and flexibility over the 4-6 winter months we have here in Salt Lake.  I'll be using the whip in the winter to stay loose.
Critique
The Orange Whip is priced at $109.  That is a bit steep in my book.
Conclusion
When used properly the Orange Whip could provide some good swing plane feedback and timing training.  The weighting and shaft flex can help build up and keep up golf muscles and muscle memory.
Related