Written by:
Tony Korologos
|
Date:
Tuesday, August 7th, 2012
Categories:
Golf Apparel
•
Golf Gear
•
Reviews
---
I've been doing a lot of apparel reviews this summer but this one is a little different.  The golf shirt by Energy Athletic has something the others don't, ion power.  Lets take a look.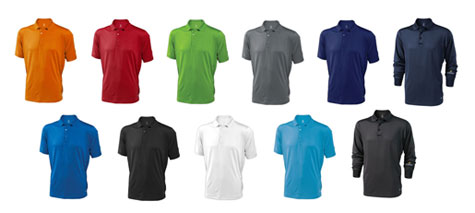 Energy Athletic Golf Shirt Features
Energy Athletic's polos are made from 95% Polyester and 5% spandex.  Yay!  No cotton!  I'm not a cotton fan with the shrinking and the wrinkling.  With these materials the shirt doesn't lose shape and is ready to wear right out of the wash.
The fabric of these polos is embedded with Energy Athletic's exclusive "IonX Ionized treatment."  According to Energy Athletic, the negative ions give you more power.
"In fact, a study conducted on 12 rugby players to test 'discrete physiological parameters associated with rugby' has shown a measurable increase in average power when wearing IonX during repetitive, short duration, high intensity exercise, very similar to movements used throughout the golf swing."
Looks/Comfort
Negative ions aside, the shirt is a fine looking one.  The polo could stand on its own on looks alone.
The shirt is also very comfortable and the fit is great.  During the golf swing there are no tight spots or binding.  No restrictions or irritations.
Sizes/Colors
The short sleeve version comes in nine colors while the long sleeve comes in three.
Sizes are available in small, medium, large, extra large and double extra large.
On The Course
The first round I had the shirt in play was crazy.  My negative ion powered round featured four birdies and a solid, low round.  Given that alone I felt that perhaps there was something real behind the negative ion power.  The rest of my group had a ton of birdies as well.  In fact, the foursome had around 14 of them.  Wow.  That made me think that perhaps the negative ions worked for me, but also were affecting my opponents.  Well, that's a problem.  I need the negative ion power working for me, not my opponent…
I wore the shirt a couple of days ago.  Had a great round of 72 with three birds on the back nine.  The rest of my group: 71, 75, 75.  See?
I should also mention that the shirt was great in the heat a couple of days ago.  Temp was around 100F and I wasn't overly hot or sweaty.
Conclusion
The Energy Athletic polo is great, regardless of whether you believe the negative ions do anything for your golf game.  It is good looking, comfortable and breaths well in hot temperatures.  I just wish they'd figure out how to point the negative ions just at me so I'm the only one getting their benefit, and not my opponents.  I'm standing farther away from them now, just in case that makes a difference.  🙂
Related Links
Hooked On Golf Blog Energy Athletic Photos