Written by:
Tony Korologos
|
Date:
Friday, May 4th, 2012
Categories:
Golf Balls
•
Golf Equipment
•
Golf Gear
•
Reviews
---
Funny story to lead off this review.  I'd received a SLEEVE of Hex Black golf balls from Callaway for a review.  I had to laugh, because they obviously didn't know about my home course (or the bad state of my game right now for that matter).  My home course has as many hazards as a mine field in Baghdad.  If the winds are up, it is possible to lose a sleeve on my home course in the first 1-3 holes.  I told them that I usually like to play with a ball for many rounds and that a sleeve wouldn't be enough.  Shortly after that, a 2nd sleeve arrived. "Great," I thought to myself.  "Now my review will last maybe five holes."
A few rounds ago I put a Hex Black into play.  I then proceeded to play 18, 18 and 23 holes (59 holes) with ONE Hex Black.  I shot the picture above right after 51 holes.   With the 2nd sleeve of Hex Blacks in my bag I went out today for another 18 with the 59 hole ball.  I played the front nine in 37 with birdies on #7 and #9.  I decided that after so many holes I should retire the ball.  I pulled out a brand new shiny Hex Black on #10 tee and proceeded to knock the darn thing into the hazard right of the fairway.  One shot, one new ball gone.  How can I play 68 straight holes without losing one ball, then lose a brand new ball in one swing?  There's a four letter word which perfectly answers that question: GOLF.
Hex Black Technology
The Hex Black is a FIVE layer golf ball (cover, two mantle layers, two cores).  My promotional materials told me to look at the included ball, which was cut in half. I would have loved to take a picture of that half-ball to post, but it wasn't included.  After spending about 4 hours and 25 minutes trying to cut one in half with a dull butter knife I gave up. The stock image from Callaway (right) will have to do.
The Hex Black gets the first part of its name from the dimple pattern of the ball.  For years now Callaway has been making golf balls with hexagonal shaped dimples.  The hex pattern allows 100% of the ball to be covered by the dimples, versus 88% coverage on balls which have round dimples.  This  helps the ball perform better, fly farther, land softer, drag less.
The cover of the ball is urethane, the typical material used in high performance or "tour" level golf balls.  Callaway has their own proprietary urethane formulation which they say reduces wear and tear on the ball.  After now having played one ball for 76.5 holes, I can verify the durability.
Along with the durability, the proprietary cover material helps give the ball a soft feel in the short game shots.
The Hex Black's dual mantle system is comprised of different Surlyn ionomer plastics.  The outer mantle is firm and the inner mantle soft.  The combined mantles give the ball high ball speeds for longer distance.
The last two layers to discuss are the dual core layers.  Callaway calls their dual core technology "iCore."  The outer core is a high compression material while the inner core is a very soft material.  This combination helps reduce spin off of the driver while at the same time promoting more spin in the short game.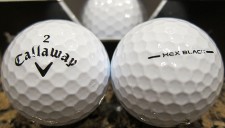 On The Course
I've now played this ball in just about every type of golf condition.  I've played in low temps, high wind, soaked ground, high heat.  The ball performs well in all of those situations.  Even in cold temps the ball is long.
The feel of this ball off the driver is very nice.  I can feel it compress.  I'm able to work the ball both directions, provided my swing isn't in the middle of a breakdown.  I've been very impressed with the ability to control the ball in the wind.  I love to hit punch shots and the Hex Black is great for those shots.  I've hit the flagstick with the Hex Black in windy conditions TWICE.
Wedge shots in the 100 yards or less category are great with the Hex Black.  I'm able to get those little half lob wedges or punch sand wedges to bite like nobody's business.
I was wanting more bite around the greens out of the HB, but after changing wedges my tune has changed.  My old wedge ran out a bit too much, but after the switch I'm happy with the zip and control I have now.  Wishing I would have made the switch earlier in the year.
As I mentioned in my opening, this ball is extremely durable.  Keep in mind though that I'm not a super high swing speed player.  I don't shave covers off of golf balls with wedges.  I'm now 68 holes into one Hex Black and still going.  It is like a game now.  How long will the ball last and how many holes can I keep it going?
Pricing And Availability

The Hex Black became available for retail sale on March 2nd of this year (2012).  Retail price for a box (dozen) is $45.99.
Conclusion
The Hex Black is a great golf ball.  The ball is long, has plenty of short game spin and perhaps best of all is extremely durable.  As durable as the ball is, I'd say the cost per ball or cost per shot is much lower than most other tour performance golf balls.
In plain English, I'll be quite excited if I find a Hex Black in the bushes.  It will go straight into my gamer pocket.