Written by:
Tony Korologos
|
Date:
Thursday, May 3rd, 2012
Categories:
Golf Accessories
•
Reviews
---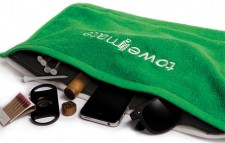 The creativity of golf inventors and golf manufacturers never ceases to amaze me.  Did the golf world need a billionth golf towel?  No.  But after using the Towelmate I may have changed my tune, including tunes from my iPod and iPhone which are in a hidden compartment INSIDE my towel!  Huh?
Towelmate
Towelmate is a golf towel made from soft 100% cotton terry.  But Towelmate is much more than a golf towel.  This towel has several nice features/functions.  Let's take a look.
Golf Side
The Towelmate has several sides.  First is the GOLF side of the towel, which is marked by the embroidered word "GOLF." 
This is the side which you clean your golf equipment with naturally.
Skin Side
The next side is the SKIN side.  The SKIN side is on the opposite side of the towel as the GOLF side.  This side is meant for the player to wipe face, hands etc.
The SKIN and GOLF sides are separated by a "germ shield" which keeps the germs from the dirty GOLF side from encroaching on the SKIN side.
INside
The 3rd side (yes I didn't know a golf towel could have three sides either until I wrote this) is the IN side or inside.  Towelmate has a very cool hidden zippered compartment in which items like cell phones, iPods, keys, wallets can be stored.  Very slick idea.  This compartment is protected by a "sweat proof" lining which will keep items inside dry.
A nice benefit of the hidden pocket came to mind.  If someone is rifling through your golf bag looking to steal your wallet or phone, they'll come up empty.  The crook isn't going to think to look inside the hidden compartment of your golf towel!
Labeled pockets on the inside include tees, cigars, phone, sunglasses.
Colors
Towelmate's Golf towel comes in two colors: green/white and bubblegum/white (pink/white).
Critiques
The pocket labeled "cigars" is small.  I like Robusto cigars and the pocket couldn't even hold one.  It the label should say "not so big cigar."  Yes, this critique is a bit of a reach I know.
Other Towelmate Products
Towelmate makes products for applications other than golf.  There are beach towels (I have one which I hope to test soon), car towels, fitness towels (wish I had one), yoga towels, handlebar covers and bags coming soon.
Conclusion
At $30 retail the golf version of Towelmate is very reasonably priced.  I used to use one half of my old golf towel as a dry/clean side and one as the wet/dirty side.  With Towelmate I have that built in with a germ barrier.  The hidden compartment is really cool.
Related Links