Written by:
Tony Korologos
|
Date:
Tuesday, April 24th, 2012
Categories:
Golf Apparel
•
Golf Gear
•
Reviews
---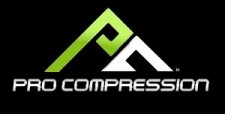 This past year or so I've set a HOG world record for golf sock reviews.  Here comes another.  I'm really digging the technology, heightened comfort and performance of modern golf socks.
Pro Compression Overview
What are compression socks anyway?  I've been hearing more and more about them the last year or so.  The answer: socks which are designed to fit tightly but for specific performance and therapeutic reasons.
Compression socks help delay muscular breakdown and fatigue from long rounds.  The socks improve blood flow, stability and reduce recovery time.
I wonder if they have a brain compression sock?
Materials
Pro Compression socks are made from a proprietary blend of nylon and poly materials which are optimized for performance.
Made In The USA
These socks are not made in China.  The quality of these USA made socks is completely under control, and results in consistency in construction and performance. All due respect to Chinese manufacturing, of course.
Sizes / Colors
There are numerous models offered by Pro Compression, both for golf and other activities.  The primary golf line contains several different lengths from ankle to long socks in many varying colors.  Best to visit their web site to see all the options, www.procompression.com.
On The Course
It took a few minutes for me to get used to the compression of these socks.  The pressure is noticeable. Slipping my feet into my golf shoes has a nice feel with the Pro Compressions on.  Playing many rounds of golf with these socks has been enjoyable.  I've walked several hundred holes with absolutely no discomfort.
Conclusion
While I can't necessarily claim that these socks have knocked any strokes off my scores I can attest to the comfort and performance.  I like the fact that they seem to handle moisture well, much better than cotton. I'm about to throw out all my cotton socks…