Written by:
Tony Korologos
|
Date:
Wednesday, March 14th, 2012
Categories:
Golf Media
•
Miscellaneous
•
PGA Merchandise Show
•
Site News
---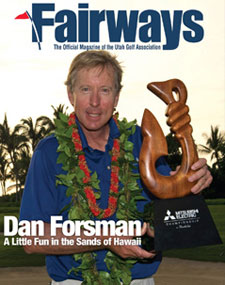 [brag] My Dad called me yesterday to let me know he read my articles in the latest issue of Utah's Fairways Magazine.  Fairways is the official magazine of the Utah Golf Association, mailed out to 30,000+ members.  My Pops told me I did a nice job on the pieces, which makes me very happy.  If he likes them that is a good thing, since he was the sports editor for the Salt Lake Tribune for many years.  My issue has yet to arrive in my mailbox, but I managed to get my hands on another copy.
If you receive Fairways, be sure to take a close look at my articles.  Feature one covers Utah companies at the PGA Show, pages 26-28.  Feature two, bottom half of page 27, covers the Utah Section PGA's attendance of the 95th annual PGA meetings.
Thanks to Randy Dodson, Chairman of Fairways Media, for the opportunity to contribute to a fine magazine. Since he's had me do more than one piece, I'm assuming I'm doing something right…
[/brag]