Written by:
Tony Korologos
|
Date:
Tuesday, February 28th, 2012
Categories:
Golf Accessories
•
Golf Gear
•
Reviews
---
The Maui Jim Longboard sunglasses are great for surfers.  The lenses and frames are saltwater safe.  Fantastic.  I live in Salt Lake City.  The only surfing I do is when I'm skiing down Mt. Baldy at Alta and an avalanche hits.  I've sported the Longboards when skiing on my long boards.  And I've sported them on the golf course.  We know they're good for surfers, but I'm testing and attesting for golfers and skiers.
Catching Waves
The idea behind the Longboards is catching waves, and I'm not talking about ocean waves.  The waves these sunglasses catch are ultraviolet. The UV lenses and thick frames block out a ton of UV and reduce glare.
Skiing
The thick wraparound frames not only protect from glare and UV, they actually seal quite well when I'm skiing.  I don't get a lot of wind hitting my eyes, even when I've hit speeds of over 40mph.  The Longboards seal so well on my face in fact, that I've actually fogged them up hiking up a steep hill in the snow.  Why would I be hiking up a steep hill of snow?  Pow pow (powder) baby.
Visibility skiing is fantastic with the Longboards.  I can see every detail in the terrain ahead of me with great clarity.  That's important when you're slightly out of control and trying to avoid large moguls, rocks and especially cliff areas.
Golfing
I've played several rounds of golf sporting the Longboards, despite the fact that my normal glasses are prescription.  The large lenses stay out of my peripheral vision and don't compromise the golf swing.  And once again the thick frames keep out glare.
The clarity and colors of the links are wonderful through these shades.
Comfort & Fit
The Longboards fit perfectly.  No extra pressure on the nose piece, which can really drive me nuts.  No extra pressure behind the ears either–another issue I can have with some glasses.
The glasses stay on in very solid fashion, during golf swings and bumpy ski runs.
Looks
I must admit that with my fantastic "Greek golf geek" looks, just about any pair of sunglasses will look good on me.  Ahem…  Even if you don't have the Greek golf geek look to start with, the Longboards are super stylish.
Case / Cleaning Cloth
I absolutely LOVE the included case.  This is a substantial case which will protect the glasses well.  And perhaps best of all is the latch which can snap onto a loop of your golf bag so you can hang them.  Love having that easy access to my shades.  The cleaning cloth is very nice too, with the signature Maui Jim background pattern.
Colors
The $219 (retail) Maui Jim Longboards are available in four color and lens combinations:
Gloss black / Maui HT (my color)
Matte Black Rubber / Neutral Grey
Rootbeer / HCL Bronze
Smoke Grey / Neutral Grey
RX
The Longboard model of Maui Jim IS available in prescription.  Through the Maui Jim web site you can click "Find an RX Retailer" and you'll find plenty.  Within a 50 mile radius of my house, I found 92.  I'm very tempted to take my Longboards in and get an RX for them.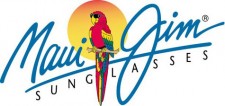 Conclusion
Though Maui Jim claims the Longboards are great for surfing, they should mention how fantastic they are for golf and skiing.  The comfort and style are unmatched in any glasses I've tested, and I've tested dozens.
Related Links
Hooked On Golf Blog Maui Jim image gallery