Written by:
Tony Korologos
|
Date:
Friday, February 24th, 2012
Categories:
Golf Clubs
•
Golf Equipment
•
Golf Gear
•
Reviews
---
Hard to write a 3000 word review on golf grips, so this will be a lightning review. 497 words.
I'm not a fan of hard or coarse golf grips like cords.  I've fought golfer's elbow / tennis elbow for a few years and the hard grips make it worse.  And how about the feel of hard grips when you're playing blades or player's clubs and you hit a 3-iron thin?  Not fun.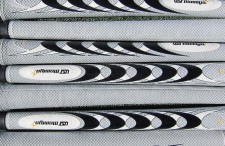 UST Mamiya Soft Touch
I like the soft feel of grips like the new UST Mamiya Soft Touch golf grips.  The grips are made from advanced technology polyurethane materials, resulting in soft feel but tight control in dry or wet conditions.  I've had these grips on my irons, wedges, hybrids and fairways for quite a few rounds now.  I like how my hand seems to blend in with the club.  It is like the grip and hand become one.  A good analogy would be that "smart" mattress material in those $5,000 beds which mold to your body.   Despite the softness I still have great feel and feedback from the clubs.  I can still tell where on the club face I'm making contact.
Short game is really great with the Soft Touch grips.  Gentle pitches and chips are very easy to feel and execute.
Durability
It is winter here and not many rounds being played right now.  I can't yet comment about the durability of these grips.  I need a couple more dozen rounds with them to really be able to comment.  So I'll do a followup post in a month or two with my findings on the durability.
Installation
I have to extend some thanks to the folks at UST Mamiya for their help.  I had a problem with the first install of many of the grips.  The installer (yes I should have done them myself) left the old tape on the clubs and used a ton of solvent.  Since there wasn't any new tape, he literally trashed five of the grips in attempting to put them on.  See the pic on the right.  I was heartbroken!
With the extra solvent and not using new tape, another four of the grips ended up bad.  I'm talking really bad.  I'm talking two inches long on the 6-iron, 1 inch long on the PW.  The lob grip was folded over onto itself on the inside.  It was a disaster.  Thanks to UST Mamiya for understanding and sending in replacements.  The next install was done perfectly with new tape and not too much solvent.
During install make sure that the cut edge of the shaft is not sharp and is properly covered with tape.  Doing so will avoid the above mentioned damage to the lob wedge, and make putting them on much easier.  And be sure to replace the old tape.  Glad to help.  That's why I'm here.
Sizes/Specs
Standard – 0.600 – 43 grams
Midsize – 0.600 – 47 grams
Undersized – 0.580 – 37 grams
Conclusion
I'm loving the feel and control of the Soft Touch grips.  They're also really sharp looking.  If you like softer grips, try out the UST Mamiya Soft Touch golf grips.
Related Links