Written by:
Tony Korologos
|
Date:
Friday, December 2nd, 2011
Categories:
Golf Apparel
•
Miscellaneous
---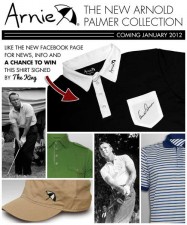 A PR firm emailed and asked me if I'd mention a this promotion.  Normally those emails go to the trash bin, but this one brought up a fun memory of me and the King. 
The King's "Palmer Collection" is trying to boost their Facebook likes so they're offering a chance to win a shirt autographed by the Mr. Palmer.  All you have to do is go to the Arniewear Facebook page and "like" it, then share your Arnie Experience, to have a chance to win.  Maybe they'll send me an autograph of the King for posting this… One can hope.  Current likes for the page: 35.  So once this is posted, get ready for it to blow up…
Speaking of Arnold Palmer, I've just made arrangements to play the Oasis "Palmer" course in Mesquite, Nevada next Wednesday.  Stoked for that.  That course was the home of "Big Break Mesquite."  This brings up my personal Arnie experience, which happened many years ago, in Mesquite:
I was down in the area of Southern Utah golfing with a buddy.  We were staying at what the time was called the "Peppermill" across the border a ways in Nevada.  It was the only hotel/casino in the tiny border gambling town of Mesquite.  We went into the casino to play craps and the table was packed, 3 people deep all around.  We decided that we needed to join that game because it must have been hot.  When we pushed our way through to the end of the table, we realized why it was so crowded.  Arnold Palmer was at the other end, throwing the dice!
We asked why the heck the King would be in this tiny little desert border town and the answer was fantastic news to us back then.  He was building a golf course there.  The course is the Oasis Palmer.
I played craps with Arnold Palmer.