Written by:
Tony Korologos
|
Date:
Monday, August 29th, 2011
Categories:
PGA Tour
•
Pro Golf
•
Tiger Woods
Tags:
Dustin Johnson
---
Dustin Johnson goes -19 to win the first round of the FedEx Cup playoffs at the Barclays.  -19?  Wow.  Like I mentioned on twitter, as much as I love Donal Ross courses, most are so old that they're way too short for Tour players.  Oh, I forgot to mention that the -19 score was in an event shortened to 54 holes!  Wow.
The funny part about DJ's demolition of this course, is that he tore up the front and didn't do that much on the back! DJ was -2 on the back.  Yes, the side which had two par-5's and a 289 yard par-4.  DJ was -17 on the front, with two rounds of 29 and one 30.  The front only had one par-5.
Stats
DJ's stats for the Barclays are quite impressive.  Here are a few reasons DJ won:
T2 in eagles
T1 in birdies (21)
T5 in bogeys
2nd in driving distance
T8 in putts per round
T7 in putts per green in regulation
T9 in greens in regulation
T1 in sand saves
Now DJ is in a great position in FedEx Cup points, 1st.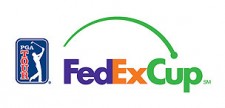 Good Show
The ever consistent Matt Kuchar moved himself up the food chain quite a bit with the 2nd place finish, though he probably should have gotten himself into a playoff with DJ were it not for the two consecutive bogeys on the back in the final round.  Kuch moves from 12th to 2nd in playoff points.
Brand Snedeker and Vijay Singh improved their causes in the playoff race, moving from 18th to 6th and 36th to 8th respectively.  Singh was not playing terribly well earlier this year, but seems to be sniffing blood or in this case, sniffing the the $10 million in cash.
Current FedEx Cup Standings
How's your favorite player doing in the playoffs?  See the chart below:

| | | | | | | |
| --- | --- | --- | --- | --- | --- | --- |
| Rank | Player | Events | Points | Wins | Top 10's | Points behind |
| 1 | Dustin Johnson | 1 | 3,691 | 1 | 6 | |
| 2 | Matt Kuchar | 1 | 2,907 | 0 | 9 | 784 |
| 3 | Nick Watney | 1 | 2,256 | 2 | 9 | 1,435 |
| 4 | Webb Simpson | 1 | 2,211 | 1 | 8 | 1,480 |
| 5 | Luke Donald | 1 | 2,108 | 1 | 10 | 1,583 |
| 6 | Brandt Snedeker | 1 | 2,102 | 1 | 6 | 1,589 |
| 7 | Steve Stricker | 1 | 2,083 | 2 | 5 | 1,608 |
| 8 | Vijay Singh | 1 | 1,778 | 0 | 5 | 1,913 |
| 9 | K.J. Choi | 1 | 1,771 | 1 | 6 | 1,920 |
| 10 | Gary Woodland | 1 | 1,748 | 1 | 6 | 1,943 |
| 11 | Phil Mickelson | 1 | 1,721 | 1 | 5 | 1,970 |
| 12 | Jonathan Byrd | 1 | 1,715 | 1 | 5 | 1,976 |
| 13 | Mark Wilson | 1 | 1,678 | 2 | 4 | 2,013 |
| 14 | Keegan Bradley | 1 | 1,621 | 2 | 4 | 2,070 |
| 15 | Jason Day | 1 | 1,590 | 0 | 8 | 2,101 |
| 16 | Bubba Watson | 1 | 1,577 | 2 | 3 | 2,114 |
| 17 | David Toms | 1 | 1,538 | 1 | 6 | 2,153 |
| 18 | Bill Haas | 1 | 1,490 | 0 | 6 | 2,201 |
| 19 | Aaron Baddeley | 1 | 1,463 | 1 | 4 | 2,228 |
| 20 | Rory Sabbatini | 1 | 1,427 | 1 | 3 | 2,264 |
| 21 | Fredrik Jacobson | 1 | 1,405 | 1 | 3 | 2,286 |
| 22 | Charles Howell III | 1 | 1,389 | 0 | 6 | 2,302 |
| 23 | Adam Scott | 1 | 1,347 | 1 | 5 | 2,344 |
| 24 | Hunter Mahan | 1 | 1,306 | 0 | 7 | 2,385 |
| 25 | Martin Laird | 1 | 1,287 | 1 | 6 | 2,404 |
| 26 | Y.E. Yang | 1 | 1,243 | 0 | 5 | 2,448 |
| 27 | Justin Rose | 1 | 1,240 | 0 | 4 | 2,451 |
| 28 | Charl Schwartzel | 0 | 1,185 | 1 | 3 | 2,506 |
| 29 | Jason Dufner | 1 | 1,143 | 0 | 5 | 2,548 |
| 30 | Brian Davis | 1 | 1,128 | 0 | 2 | 2,563 |
| 31 | Rickie Fowler | 1 | 1,121 | 0 | 4 | 2,570 |
| 32 | Bo Van Pelt | 1 | 1,099 | 0 | 3 | 2,592 |
| 33 | Charley Hoffman | 1 | 1,096 | 0 | 2 | 2,595 |
| 34 | D.A. Points | 1 | 1,055 | 1 | 3 | 2,636 |
| 35 | Spencer Levin | 1 | 1,025 | 0 | 4 | 2,666 |
| 36 | Ryan Palmer | 1 | 1,022 | 0 | 3 | 2,669 |
| 37 | Tommy Gainey | 1 | 999 | 0 | 6 | 2,692 |
| 38 | Scott Stallings | 1 | 992 | 1 | 2 | 2,699 |
| 39 | Kyle Stanley | 1 | 979 | 0 | 2 | 2,712 |
| 40 | Zach Johnson | 1 | 962 | 0 | 4 | 2,729 |
| 41 | Chris Kirk | 1 | 957 | 1 | 4 | 2,734 |
| 42 | Steve Marino | 1 | 939 | 0 | 3 | 2,752 |
| 43 | Jhonattan Vegas | 1 | 924 | 1 | 2 | 2,767 |
| 44 | Ryan Moore | 1 | 883 | 0 | 3 | 2,808 |
| 45 | Lucas Glover | 1 | 875 | 1 | 1 | 2,816 |
| 46 | Robert Karlsson | 1 | 872 | 0 | 3 | 2,819 |
| 47 | Jerry Kelly | 1 | 868 | 0 | 3 | 2,823 |
| 48 | Jimmy Walker | 1 | 867 | 0 | 4 | 2,824 |
| 49 | Carl Pettersson | 1 | 861 | 0 | 4 | 2,830 |
| 50 | Scott Piercy | 1 | 853 | 1 | 2 | 2,838 |
| 51 | Camilo Villegas | 1 | 839 | 0 | 3 | 2,852 |
| 52 | Brendon de Jonge | 1 | 837 | 0 | 3 | 2,854 |
| 53 | Sergio Garcia | 1 | 832 | 0 | 3 | 2,859 |
| 54 | Brendan Steele | 1 | 826 | 1 | 1 | 2,865 |
| 55 | Cameron Tringale | 1 | 814 | 0 | 4 | 2,877 |
| 56 | Brandt Jobe | 1 | 803 | 0 | 3 | 2,888 |
| 57 | Kevin Na | 1 | 778 | 0 | 5 | 2,913 |
| 58 | Kevin Streelman | 1 | 770 | 0 | 3 | 2,921 |
| 59 | Robert Allenby | 1 | 761 | 0 | 3 | 2,930 |
| 60 | Jim Furyk | 1 | 743 | 0 | 3 | 2,948 |
| 61 | John Senden | 1 | 732 | 0 | 2 | 2,959 |
| 62 | Sean O'Hair | 1 | 724 | 1 | 1 | 2,967 |
| 63 | Pat Perez | 1 | 716 | 0 | 4 | 2,975 |
| 64 | Harrison Frazar | 1 | 713 | 1 | 1 | 2,978 |
| 65 | Charlie Wi | 1 | 711 | 0 | 1 | 2,980 |
| 66 | Anthony Kim | 1 | 702 | 0 | 2 | 2,989 |
| 67 | Robert Garrigus | 1 | 702 | 0 | 3 | 2,989 |
| 68 | Kris Blanks | 1 | 694 | 0 | 2 | 2,997 |
| 69 | George McNeill | 1 | 694 | 0 | 4 | 2,997 |
| 70 | Marc Leishman | 1 | 692 | 0 | 2 | 2,999 |
| 71 | Brian Gay | 1 | 685 | 0 | 3 | 3,006 |
| 72 | Andres Romero | 1 | 681 | 0 | 4 | 3,010 |
| 73 | Chad Campbell | 1 | 674 | 0 | 1 | 3,017 |
| 74 | Kevin Chappell | 1 | 673 | 0 | 2 | 3,018 |
| 75 | Chris Stroud | 1 | 666 | 0 | 2 | 3,025 |
| 76 | J.J. Henry | 1 | 651 | 0 | 1 | 3,040 |
| 77 | J.B. Holmes | 0 | 640 | 0 | 4 | 3,051 |
| 78 | Ian Poulter | 1 | 639 | 0 | 1 | 3,052 |
| 79 | Trevor Immelman | 1 | 638 | 0 | | 3,053 |
| 80 | Padraig Harrington | 1 | 620 | 0 | 3 | 3,071 |
| 81 | Blake Adams | 1 | 616 | 0 | 3 | 3,075 |
| 82 | Jeff Overton | 1 | 611 | 0 | 3 | 3,080 |
| 83 | John Rollins | 1 | 608 | 0 | 2 | 3,083 |
| 84 | Graeme McDowell | 1 | 605 | 0 | 3 | 3,086 |
| 85 | Bill Lunde | 1 | 598 | 0 | | 3,093 |
| 86 | Scott Verplank | 1 | 588 | 0 | 3 | 3,103 |
| 87 | Chez Reavie | 1 | 588 | 0 | 3 | 3,103 |
| 88 | Johnson Wagner | 1 | 585 | 1 | 1 | 3,106 |
| 89 | Ryuji Imada | 1 | 582 | 0 | 2 | 3,109 |
| 90 | Chris Couch | 1 | 573 | 0 | 3 | 3,118 |
| 91 | Geoff Ogilvy | 1 | 571 | 0 | 3 | 3,120 |
| 92 | Greg Chalmers | 1 | 570 | 0 | 2 | 3,121 |
| 93 | Davis Love III | 1 | 557 | 0 | 2 | 3,134 |
| 94 | Stewart Cink | 1 | 556 | 0 | 1 | 3,135 |
| 95 | Ricky Barnes | 1 | 552 | 0 | 2 | 3,139 |
| 96 | William McGirt | 1 | 551 | 0 | | 3,140 |
| 97 | Troy Matteson | 1 | 542 | 0 | 2 | 3,149 |
| 98 | John Merrick | 1 | 535 | 0 | 1 | 3,156 |
| 99 | Ernie Els | 1 | 527 | 0 | | 3,164 |
| 100 | Ben Crane | 1 | 526 | 0 | 2 | 3,165 |
| 101 | Bryce Molder | 1 | 523 | 0 | 4 | 3,168 |
| 102 | Josh Teater | 1 | 513 | 0 | 1 | 3,178 |
| 103 | Hunter Haas | 1 | 499 | 0 | 3 | 3,192 |
| 104 | Chris DiMarco | 1 | 499 | 0 | | 3,192 |
| 105 | Paul Goydos | 1 | 474 | 0 | 3 | 3,217 |
| 106 | D.J. Trahan | 1 | 474 | 0 | 1 | 3,217 |
| 107 | Nick O'Hern | 1 | 463 | 0 | 2 | 3,228 |
| 108 | Matt Bettencourt | 1 | 461 | 0 | 2 | 3,230 |
| 109 | Arjun Atwal | 1 | 459 | 0 | 1 | 3,232 |
| 110 | Tim Herron | 1 | 456 | 0 | 2 | 3,235 |
| 111 | Michael Bradley | 1 | 454 | 1 | 1 | 3,237 |
| 112 | Retief Goosen | 1 | 444 | 0 | 1 | 3,247 |
| 113 | Kevin Stadler | 1 | 444 | 0 | 1 | 3,247 |
| 114 | Tom Gillis | 1 | 431 | 0 | 2 | 3,260 |
| 115 | Michael Thompson | 1 | 413 | 0 | 1 | 3,278 |
| 116 | Vaughn Taylor | 1 | 397 | 0 | | 3,294 |
| 117 | Heath Slocum | 1 | 388 | 0 | | 3,303 |
| 118 | Stuart Appleby | 1 | 387 | 0 | 1 | 3,304 |
| 119 | Rod Pampling | 1 | 385 | 0 | 2 | 3,306 |
| 120 | Joe Ogilvie | 1 | 379 | 0 | 1 | 3,312 |
| 121 | David Hearn | 1 | 377 | 0 | 1 | 3,314 |
| 122 | Billy Mayfair | 1 | 353 | 0 | 1 | 3,338 |
| 123 | James Driscoll | 1 | 353 | 0 | 2 | 3,338 |
| 124 | Steve Flesch | 1 | 352 | 0 | 1 | 3,339 |
| 125 | Steven Bowditch | 1 | 347 | 0 | 1 | 3,344 |
| 126 | Justin Leonard | 0 | 328 | 0 | | 3,363 |
| 127 | Matt Jones | 0 | 328 | 0 | 1 | 3,363 |
| 128 | Tim Petrovic | 0 | 326 | 0 | | 3,365 |
| 129 | David Mathis | 0 | 326 | 0 | 1 | 3,365 |
| 130 | Cameron Beckman | 0 | 324 | 0 | | 3,367 |
| 131 | Dean Wilson | 0 | 318 | 0 | | 3,373 |
| 132 | Tiger Woods | 0 | 318 | 0 | 2 | 3,373 |
| 133 | Ben Curtis | 0 | 304 | 0 | | 3,387 |
| 134 | Alex Cejka | 0 | 303 | 0 | | 3,388 |
| 135 | Roland Thatcher | 0 | 302 | 0 | 2 | 3,389 |
| 136 | Michael Putnam | 0 | 300 | 0 | | 3,391 |
| 137 | Tim Clark | 0 | 299 | 0 | 1 | 3,392 |
| 138 | Stephen Ames | 0 | 298 | 0 | 2 | 3,393 |
| 139 | Kent Jones | 0 | 297 | 0 | | 3,394 |
| 140 | Chris Riley | 0 | 292 | 0 | 1 | 3,399 |
| 141 | Zack Miller | 0 | 290 | 0 | 1 | 3,401 |
| 142 | Tag Ridings | 0 | 286 | 0 | | 3,405 |
| 143 | Jason Bohn | 0 | 284 | 0 | | 3,407 |
| 144 | Paul Casey | 0 | 280 | 0 | | 3,411 |
| 145 | Matt McQuillan | 0 | 280 | 0 | 2 | 3,411 |
| 146 | Aron Price | 0 | 272 | 0 | | 3,419 |
| 147 | Garrett Willis | 0 | 270 | 0 | 1 | 3,421 |
| 148 | Louis Oosthuizen | 0 | 267 | 0 | 1 | 3,424 |
| 149 | Joe Durant | 0 | 260 | 0 | | 3,431 |
| 150 | Bob Estes | 0 | 258 | 0 | 1 | 3,433 |