Written by:
Tony Korologos
|
Date:
Saturday, July 30th, 2011
Categories:
Pro Golf
•
Web.com Tour
Tags:
Web.com Tour
---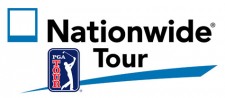 Here are the results through two rounds here at the Nationwide Tour's Utah Championship. I've had my eye on a few players I've met while here, and a couple of locals. Unfortunately my buddy Luke Swilor missed the cut (-3), but shot a respectable 72-70. Another local I know is Pete Stone who also missed the cut. The final local who I'm not acquainted with is Tony Finau. Tony (great name) did make the cut with an excellent 2nd round 65.
NWT pros I've been keeping my eye on include my new buddy Ted Oh, who did make the cut (68-69). I've gotten to be twitter pals with Brock Mackenzie's caddie Kevin Ensor, but unfortunately he and Brock (71-74, +3) won't be around for the weekend. I would have invited them to enjoy a frosty beverage with me.
Below is the leader board through two rounds at the Utah Championship
| | | | | | |
| --- | --- | --- | --- | --- | --- |
| 1 | J.J. Killeen | -13 | 62 | 67 | 129 |
| 2 | Jeff Gove | -12 | 68 | 62 | 130 |
| 3 | James Hahn | -11 | 65 | 66 | 131 |
| 4 | Jason Allred | -10 | 67 | 65 | 132 |
| T5 | Darron Stiles | -9 | 70 | 63 | 133 |
| T5 | Scott Gardiner | -9 | 64 | 69 | 133 |
| T5 | Joel Edwards | -9 | 64 | 69 | 133 |
| T8 | Peter Tomasulo | -8 | 68 | 66 | 134 |
| T8 | Bob May | -8 | 68 | 66 | 134 |
| T8 | Jonas Blixt | -8 | 68 | 66 | 134 |
| T8 | Edward Loar | -8 | 67 | 67 | 134 |
| T12 | David Lingmerth | -7 | 66 | 69 | 135 |
| T12 | Travis Bertoni | -7 | 68 | 67 | 135 |
| T12 | Kyle Reifers | -7 | 66 | 69 | 135 |
| T12 | Nicholas Thompson | -7 | 66 | 69 | 135 |
| T12 | Tim Wilkinson | -7 | 67 | 68 | 135 |
| T12 | Dan Woltman | -7 | 71 | 64 | 135 |
| T12 | John Chin | -7 | 67 | 68 | 135 |
| T12 | Bud Cauley | -7 | 67 | 68 | 135 |
| T12 | Paul Claxton | -7 | 66 | 69 | 135 |
| T12 | Carlos Franco | -7 | 70 | 65 | 135 |
| T12 | Richard T. Lee | -7 | 68 | 67 | 135 |
| T12 | Travis Hampshire | -7 | 68 | 67 | 135 |
| T12 | Matt Davidson | -7 | 68 | 67 | 135 |
| T25 | David Branshaw | -6 | 69 | 67 | 136 |
| T25 | Steve Wheatcroft | -6 | 67 | 69 | 136 |
| T25 | Andrew Buckle | -6 | 68 | 68 | 136 |
| T25 | John Kimbell | -6 | 66 | 70 | 136 |
| T25 | Drew Kittleson | -6 | 68 | 68 | 136 |
| T25 | Tony Finau | -6 | 71 | 65 | 136 |
| T25 | Brian Stuard | -6 | 69 | 67 | 136 |
| T25 | Stephen Gangluff | -6 | 66 | 70 | 136 |
| T25 | Scott Brown | -6 | 68 | 68 | 136 |
| T34 | Casey Wittenberg | -5 | 68 | 69 | 137 |
| T34 | Aaron Watkins | -5 | 71 | 66 | 137 |
| T34 | Ken Duke | -5 | 67 | 70 | 137 |
| T34 | Troy Kelly | -5 | 71 | 66 | 137 |
| T34 | Danny Lee | -5 | 71 | 66 | 137 |
| T34 | Ted Oh | -5 | 68 | 69 | 137 |
| T34 | Charles Warren | -5 | 69 | 68 | 137 |
| T34 | Rahil Gangjee | -5 | 68 | 69 | 137 |
| T34 | Daniel Chopra | -5 | 72 | 65 | 137 |
| T34 | Jason Kokrak | -5 | 70 | 67 | 137 |
| T34 | Matt Hendrix | -5 | 69 | 68 | 137 |
| T34 | Ryan Hietala | -5 | 69 | 68 | 137 |
| T46 | Camilo Benedetti | -4 | 67 | 71 | 138 |
| T46 | Luke List | -4 | 68 | 70 | 138 |
| T46 | Aaron Goldberg | -4 | 70 | 68 | 138 |
| T46 | Matt Every | -4 | 70 | 68 | 138 |
| T46 | Roger Tambellini | -4 | 67 | 71 | 138 |
| T46 | Alistair Presnell | -4 | 66 | 72 | 138 |
| T46 | Steven Alker | -4 | 67 | 71 | 138 |
| T46 | Justin Bolli | -4 | 70 | 68 | 138 |
| T46 | Mark Anderson | -4 | 69 | 69 | 138 |
| T46 | Ted Purdy | -4 | 68 | 70 | 138 |
| T46 | Bob Heintz | -4 | 72 | 66 | 138 |
| T57 | Brad Elder | -3 | 68 | 71 | 139 |
| T57 | Cliff Kresge | -3 | 66 | 73 | 139 |
| T57 | Jay Williamson | -3 | 67 | 72 | 139 |
| T57 | Miguel Angel Carballo | -3 | 71 | 68 | 139 |
| T57 | Christopher DeForest | -3 | 71 | 68 | 139 |
| T57 | Charlie Beljan | -3 | 72 | 67 | 139 |
| T57 | Ryan Armour | -3 | 73 | 66 | 139 |
| T57 | Martin Flores | -3 | 69 | 70 | 139 |
| T57 | Brian Vranesh | -3 | 68 | 71 | 139 |
CUT LINE

Robert Damron
70
70
140
Adam Blyth
73
67
140
Rob Oppenheim
67
73
140
Gary Christian
71
69
140
Chris Moody
69
71
140
Peter Lonard
72
68
140
Brett Swedberg
68
72
140
Trevor Murphy
73
67
140
Brice Garnett
70
70
140
Nick Killpack
71
69
140
Craig Bowden
70
71
141
Chris Nallen
73
68
141
James Sacheck
72
69
141
Ron Whittaker
71
70
141
Bradley Iles
68
73
141
Andrew Svoboda
72
69
141
Todd Fischer
72
69
141
Dawie van der Walt
72
69
141
Nick Taylor
71
70
141
Jason Schultz
70
71
141
Josh Geary
72
69
141
Omar Uresti
71
70
141
Gavin Coles
70
71
141
Dustin Garza
68
73
141
Darren Angel
70
71
141
Michael Sims
67
74
141
Zack Sucher
69
72
141
Dicky Pride
70
72
142
Richard H. Lee
72
70
142
Shawn Jasper
69
73
142
Patrick Sheehan
73
69
142
Scott Weatherly
74
68
142
Adam Bland
71
71
142
Chan Kim
70
72
142
Brian Bateman
69
73
142
Doug LaBelle II
70
72
142
Jin Park
73
69
142
Andy Bare
69
73
142
Luke Swilor
72
70
142
Chris Smith
71
72
143
Scott Dunlap
74
69
143
Seong Ho Lee
70
73
143
David Lutterus
72
71
143
Jon Mills
71
72
143
Mathias Gronberg
70
73
143
Tyrone Van Aswegen
72
71
143
Jimmy Brandt
73
70
143
Clayton Rask
70
73
143
Brent Delahoussaye
73
70
143
Luke Hickmott
73
71
144
Danny Wax
70
74
144
John Inman
74
70
144
Tom Scherrer
72
72
144
Josh Broadaway
76
68
144
Casey Crain
72
72
144
Bryan DeCorso
76
68
144
Nick Flanagan
72
72
144
James Nitties
72
72
144
B.J. Staten
71
73
144
Ty Tryon
75
69
144
Craig Kanada
73
72
145
Jerod Turner
72
73
145
Elliot Gealy
73
72
145
Blake Parks
75
70
145
Bubba Dickerson
68
77
145
Brock Mackenzie
74
71
145
Zachary Bixler
72
73
145
Creighton Honeck
71
74
145
Vance Veazey
70
75
145
Jeff Brehaut
72
73
145
Matthew Richardson
69
76
145
Adam Meyer
74
72
146
Grant Leaver
73
73
146
Guy Boros
69
77
146
Kevin Johnson
71
75
146
Won Joon Lee
68
78
146
Brett Waldman
79
67
146
Steve Dartnall
72
74
146
Brendon Todd
73
73
146
Brian Smock
77
70
147
Rich Barcelo
77
70
147
Brad Adamonis
74
73
147
Ryan Yip
70
77
147
Tommy Biershenk
72
76
148
Jake Younan-Wise
75
73
148
Justin Peters
72
76
148
Geoffrey Sisk
74
75
149
Pete Stone
75
74
149
Doug Barron
77
74
151
Matt Baird
75
76
151
Colby Myers
77
76
153