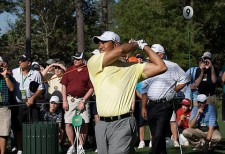 Tiger Woods will be back in action next week at the WGC Bridgestone Invitational.  Can Tiger improve his world ranking which has dropped below 20 for the first time since something like 1997?  I think perhaps making a cut should be more of the focus.  Wait a second.  There is no cut in that event!  Brilliant move.
And no news yet as to who may be the caddie?  Who will have the chance to make up for all of those bad high fives which Tiger and Steve Williams missed?  I guess my resume got lost in the mail.
Update: seems as if Tiger's friend Bryon Bell will be on the bag this week.
And what about Tiger's swing coach Sean Foley?  Just a few days ago Foley said Tiger hadn't even hit a ball since the TPC, and now he's playing in the Bridgestone.  Odd.
Update: Foley is said to be on board and will be seeing Tiger tomorrow.
The announcement from Tiger's web site
Tiger Woods will return to competition next week in the World Golf Championships-Bridgestone Invitational at Firestone Country Club in Akron, Ohio, he announced Thursday.

"I'm excited to get back out there," said Woods, who has been idle since withdrawing from The PLAYERS Championship after nine holes on May 12 after sustaining a mild medial collateral ligament strain to his left knee and aggravating a strained left Achilles tendon.

Both injuries were originally occurred during the third round of the Masters, when Woods hit a recovery shot out of pine straw on the 17th hole. He went on to shoot 74, but followed with a 67 on Sunday and tied for fourth.

Following the advice of his doctors, Woods has rested and rehabbed his left leg, and just recently began hitting practice balls.

Woods has had great success at Firestone, winning the WGC event seven times. Last year, he tied for 78th, marking the first time in 11 appearances that he has failed to finish in the top four.

In 2011, Woods has competed in six PGA Tour tournaments. He has posted two top 10 finishes and has made five-of-six cuts.
So we have Tiger returning to golf and a SEVEN word quote?  I dug deeper to find 12 more words on Tiger's twitter, which hadn't been updated in 11 days:
Feeling fit and ready to tee it up at Firestone next week. Excited to get back out there!" ~Tiger Woods via twitter
Let the media feeding frenzy begin in one… two… GO
Well the pundits will be pontificating profusely from now until a week from Sunday.  Of course the big story this week won't be anything about the Greenbrier.  It will be about Tiger's return.