Written by:
Tony Korologos
|
Date:
Thursday, June 30th, 2011
Categories:
Golf
•
HOG World Tour
---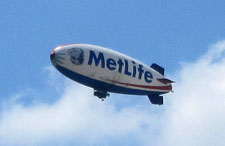 So my best bud Al and I are about to leave for St. Andrews on the red eye tonight.  Today we decided to get a practice round in at Applebrook, not too far down the road from Aronomink and the PGA Tour's current AT&T tournament.
Obviously the blimp pilot saw that me and my buddy Al were golfing and decided to bail on the Tour and fly over some much better golfers.