Written by:
Tony Korologos
|
Date:
Tuesday, June 28th, 2011
Categories:
Golf Books
•
Reviews
Tags:
St. Andrews
---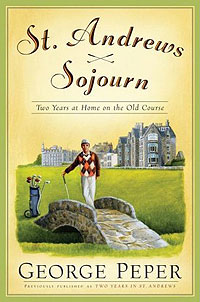 In preparation for my pending golf trip to St. Andrews, my best bud sent me some books to read via Amazon. I'm doing my best to plow through them, as slow of a reader as I am.
I'm really enjoying my current read, St. Andrews Sojourn: Two Years at Home on the Old Course
.
St. Andrews Sojourn is the story of a golf writer named George Peper, who slices his tee shot on the The Old Course in St. Andrews, goes into town looking for his errant ball, and ends up buying a home which looks over the course.  Though he buys the place as a rental property, he eventually moves in and experiences the dream of  living next to the world's most famous golf course in the world's most famous golf town, the "Auld Gray Toon."
I hope to have this one finished by the time I land in Philly tomorrow on my way to Scotland.  It reads very easy and Peper's humor and analogies are terrific.
I'm sure we'll see George's place as we play the 18th hole this coming week.  If I slice a ball into his yard, I'll be sure to stop by and get it so I can say hello.