Written by:
Tony Korologos
|
Date:
Saturday, June 18th, 2011
Categories:
PGA Tour
•
Pro Golf
•
Tiger Woods
•
U.S. OPEN
Tags:
Rory McIlroy
---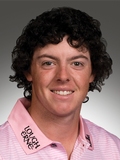 Wow what a clinic by 22 year old Rory McIlroy.  Did I mention that his swing looks a lot like mine?  🙂
Where does one even start to discuss how amazing and historic Rory's first two rounds at this year's U.S. Open at Congressional CC are?  He's smashing records left and right and has damn near lapped the field on the scoreboard.
Records Tied Or Broken
Let's see what records Rory has tied or broken so far.
First he has become the fastest player to double digits under par in a U.S. Open.  That feat happened after 26 holes, shattering the old record by Gil Morgan by 13 holes.  Only four other players have ever reached double digits under par in an Open, Tiger Woods (-12), Gil Morgan (-12), Ricky Barnes (-11) and Jim Furyk (-11).  Woods reached that point in the final round while the other three in their third rounds.  Rory did it in his 2nd round.
Rory had an eight shot lead until he doubled the final hole in round two, his only booboo on the week so far.  His six shot lead at the half way point ties Tiger Woods for largest 36 hole lead in a U.S. Open, six.
Finally, McIlroy has set a new 36 hole scoring record with rounds of 65-66.  His total of 131 after two days beats the old record set by Ricky Barnes back in 2009 at Beth Page Black.  Barnes didn't win by the way.
The Weekend? Can Rory Hold On This Time?
Seldom do players follow up super low rounds with more super low rounds.  Saturday's cut day I anticipate some movement.  I expect McIlroy to still have a lead, but my guess is it will be cut down to about three shots by the end of the day.  I'd love to see him extend it even farther though.
Y.E. Yang knows how to overcome six shot leads in majors and he's six shots behind McIlroy.  They'll be playing together in round three.  Good place for Yang to put some pressure on, being in the pairing with Rory.
I imagine that the double bogey on 18 in round two may have done more good than harm.  It would possibly serve as a wake up call for Rory, letting him know that one bad swing or two could erase that lead.  Sure he should have know that at the Masters this year, but I think that experience will help him overcome the nerves this time around.
After moving day we'll see if anyone else in the field can make a move and become a factor.  Other than Yang who is six shots back, the closest players are at two under par, nine shots back.