Written by:
Tony Korologos
|
Date:
Friday, June 17th, 2011
Categories:
European Tour
•
PGA Tour
•
Pro Golf
•
U.S. OPEN
Tags:
Phil Mickelson
•
Rory McIlroy
•
US OPEN
---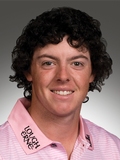 Thankfully I'm able to tune into DirecTv for the "U.S. Open Mix" where I can select one of several channels to view.  I turned off the crappy ESPN feed with the awful Chris Berman announcing and tuned into channel 703 which is the featured group of Rory McIlroy, Phil Mickelson and Dustin Johnson.  If you have DirecTv, tune to channel 701 for the mix.
McIlroy's Plan?
Rory McIlroy this morning has made birdie on holes #4 and #6.  But the big fireworks happened on #8 where he holed out from 113 yards for eagle.  Through hole #8 Rory is -4 on the day and -10 for the Open, a SEVEN shot lead.
Apparently Rory's plan is to run away and hide from the field, sort of like Tiger Woods years back at Pebble.  If he builds up a big enough lead, he can insure that a nervous Sunday round won't hurt him too much I suppose.
Front Nine Done
The featured group is now done with the Friday front nine.  Phil Mickelson is playing much better today, shooting -3 on the front.  Mcilroy ends up -4 on the front and sits at -10 with the tougher back nine to go.
Note: Rory's ascension to double digits under par in 26 holes is the fastest in U.S. Open history.