Written by:
Tony Korologos
|
Date:
Tuesday, April 12th, 2011
Categories:
Golf Accessories
•
Golf Gear
•
Reviews
---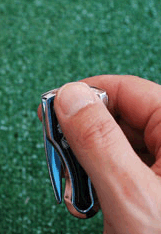 I doubt they'd let me on an airplane with this thing.  The latest divot tool I have in play is the Tattoo Golf Switch Blade.
Construction
This is not a light piece.  The unit is thick and made of stainless steel.  So if you want a wimpy little thin divot tool in your pocket, perhaps this one isn't for you.  But if you like a solid, well built product then read on.
When the switch blade is concealed, the tool is about two inches long and about 3/4 wide.  Pressing the button you can see left of the skull in the image below releases the thick and strong blade which is great for fixing all the ball marks you can find, like I do.
Triangular Ball Marker
There's a magnetic ball marker on the unit, which also has the timeless classic Tattoo Golf skull on it.  It would be cool if the magnet on the tool was a bit stronger to hold the ball marker better though.
On The Course
I love this thing.  But then again, I love anything with a skull on it.  The unit feels great in the hand and works wonders on ball marks.
I find that before putting back the blade I need to make sure it is clean.  If I leave dirt on the blades, it can get stuck the next time I try to release them.
Conclusion
Stainless steel, solid, black, switch blade operation, two skulls, fixes ball marks, can be used as a weapon in a bar fight (for defense only of course).  What more could one ask from divot tool?