Written by:
Tony Korologos
|
Date:
Tuesday, February 8th, 2011
Categories:
PGA Tour
•
Pro Golf
---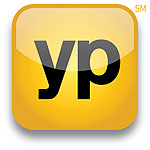 I'm happy to announce that my two web sites, Hooked On Golf Blog & The Golf Space, have partnered with AT&T Interactive's "YP" brand to give away two pairs of tickets to this week's AT&T Pro-Am at Pebble Beach.  These two pairs of tickets are good for Thursday through Sunday's rounds.  Click the read more link below to read more about YP.
Two ways to win, and they're EASY
I'm going to draw the pairs of tickets for Pebble by picking someone who follows The Golf Space or Hooked On Golf Blog's Twitter pages.  That's it.  If you already have followed one or the other, simply to a Twitter mention of @thegolfspace or @hoggolfblog and you'll be entered.  This contest will last approximately 1-2 days so I can have enough time to overnight the winners the tickets.
Click here to follow the Hooked On Golf Blog Twitter.
Click here to follow The Golf Space Twitter.
A 3rd way to win if you don't do the Twitter thing

If you don't have a Twitter account and don't want to sign up for one, comment in here or any post from and I'll add you to the contest.
More information about YP – click the read more link if you don't see it
During the tournament, fans are invited to stop by the AT&T Digital Clubhouse, located at the Triangle on Pebble Beach Golf Links, where holes 6, 8 and 14 meet, to participate in the "Closest to the Pin" contest, enjoy the action from two outdoor patio decks and experience a variety of AT&T products and services. Additionally, at the AT&T Fan Zone tent located on the 18th hole, guests can use YP.com and the YP app to explore businesses and other events on the Monterey Peninsula – as well as local deals to save money along the way. YP just launched a new YP app for iPhone that is sure to be useful in finding nearby golf shops and spots for dinner. And, at the Grand Entrance, fans can participate in golf-related games and trivia at the AT&T Fan Zone Tour Truck.AT&T's announcement today about Pebble Beach, for more background.