Written by:
Tony Korologos
|
Date:
Sunday, April 25th, 2010
Categories:
Golf Media
•
Golf Videos
•
Miscellaneous
•
Site News
Tags:
Golf Networking
---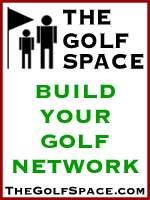 THE GOLF SPACE CELEBRATES FOUR YEARS OF GOLF SOCIAL NETWORKING
I officially opened the doors of The Golf Space, golf's #1 social networking site, during Masters week of 2006.  Since then I've had the pleasure of meeting thousands of great new golf friends, reading their golf blogs, watching their golf scores and statistics, seeing their photos and best of all, seeing TGS members network and make golf new golf friends. Calling The Golf Space "Facebook for gofers" doesn't quite do it justice.  TGS was built by golfers, for golfers.  The features and profile fields are all golf biased.
The goal behind TGS is the same simple one it was four years ago, be the web's best golf networking site.  Be the best "community" in golf anywhere and provide a free home base for golfers to congregate, talk golf, track their golf handicaps, blog, post photos, videos and make new golf connections both in the personal and business worlds.  Every day I see people meeting, getting together to play, giving each other advice and helping each other out on TGS.  When I see those great things happen I smile like a proud papa.
State of TGS
There are over 5100 Golf Space members and growing daily.  Hits exceed 1,000,000 per month with over 75,000 unique visitors.  Considering there's no advertising budget, this grass roots growth is great.  I'd love to see more members and growth increase, so tell your friends to join The Golf Space.  It is free so there's nothing to lose but much to gain in the way of friendships, business connections and perhaps help with your short game.
Future of TGS
I think the future is bright for TGS, especially based on how great the current core members are.  I'd love to hear some suggestions on how to make TGS grow and how to make it better.  Some items on the list for TGS in the future would be to improve the site, the look, add new features, make a mobile version for iPhones or blackberries, have TGS tournaments and get-togethers, beer and bratwursts.  You name it.  I'm always up for suggestions.  Oh and I'd love to give away a bunch more free golf stuff too.  Anyone who wants to sponsor some prizes and has giveaway or contest ideas, let me know.
Thanks to the current TGS members, sponsors and friends
Many thanks to the current TGS members, friends, admins and sponsors.  Without your support and friendship this great resource for golfers would not exist.  When the concept of TGS entered my cranium back in the winter of 2006, I nearly drove my car off the road.  I've been passionate about TGS ever since, and I promise I'll do whatever I can to help TGS continue to grow and improve in the future.
Tony Korologos
Golf Space founder and golf web geek