Written by:
megangolf |
Date:
Tuesday, September 5th, 2006
Categories:
European Tour
•
Golf For Women
•
Golf Instruction
•
LPGA Tour
---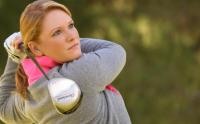 I am back in Los Angeles and loving the time that I have back at home. My caddie Andy and I had a great time in Gettysburg. I shot 74 the first day missing a couple short putts, came back the second day and shot one under par to move up the leader board quite a bit. I was very happy with my round on Saturday and was ready to move up even more on Sunday.
I was satisfied with shooting 73 on Sunday because I thought that the course was set up difficult to play all weekend. The greens were by far the largest and most undulated that we have played all year so you really had to be precise with your yardages or you would leave yourself a challenging 2 putt. I was actually very impressed with how low the scores were for the tournament.
I am proud of myself for coming back at the end of the season and playing well in my last 3 events. It gives me a lot of confidence going into qualifying school. So the time that I have at home for the next couple of weeks I will be practicing, working with my swing coach Bryan, playing practice rounds and, of course just enjoying my time at home with friends and family.
Cheers,
Megan Heckeroth