Written by:
megangolf |
Date:
Friday, August 25th, 2006
Categories:
European Tour
•
Golf For Women
•
Golf Instruction
•
LPGA Tour
---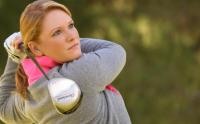 I had a lot of fun in Queenstown Maryland last week. Of course you always enjoy the game of golf a little more when you play well.
Birdies galore
The first day I took advantage of the par 5's and birdied every single one of them but had a couple bogies to finish with a 2 under par 70. I was very satisfied with that score for that day because I had only hit 3 fairways. I hung in there though and put in a real grind because I knew that I had left a lot of birdies out there that I could get the next day.
31 on the back nine, 1-off my 9-hole record
I worked with my driver on the range after the round and got a lot more confident with it. I hit 13 fairways the next day to shoot 69 for a 5 under par 2 day total for 4th place. I shot 69 with a triple bogey. An errant tee shot into the hazard for a 7 on a par four to shoot 38 on the front nine gave me a little more determination to go low on the back nine. And I did just that, with 5 birdies for a 31 on the back nine. My lowest score for nine holes was a 30 which was during a high school match. That finish gave me a lot of confidence going into Sunday. It's funny how difficult this game is but when you play that well it just seems so easy. You just know exactly where every shot is going to go.
Comfortable at the top
On Sunday, I unfortunately made another big number by hitting the ball in the water twice on number nine to finish the tournament at even par. Of course that was a disappointment but I wound up finishing 13th, my best finish this year. Unlike Lima, Ohio on Sunday when I was very nervous, Last week I was more determined and comfortable at the top of the leaderboard. That is an accomplishment.
Ready for Q-school
This week is my last tournament of the season in Gettysburg Pennsylvania before Q-school in. My friend Andy is caddying for me this week so we are going to go out there this weekend and play hard but most importantly have fun!
Cheers,
Megan Heckeroth