Written by:
megangolf |
Date:
Saturday, August 5th, 2006
Categories:
European Tour
•
Golf For Women
•
Golf Instruction
•
Life
•
LPGA Tour
•
Site News
---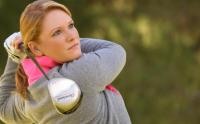 It was an unfortunate start to the last stretch of the season. I missed the first two cuts and put up two of my highest rounds of the year. I was disappointed yes but just more shocked than anything. I think that the goals that I had set for the last 5 events put too much pressure on me. That's when I start trying to make things happen instead of just letting go. I am still learning everyday. To be honest my patience is wearing a little thin but this is the time of the year when I really need to hang in there, grind even more and stay as patient as possible.
Niagara Falls
After my visit to Rochester, I took the time to drive the extra hour east to check out Niagara Falls. It was spectacular! I took a boat ride to the bottom of the falls and got soaked. I also took the "cave of the winds" walk and got drenched from standing directly under the Bridal Veil Falls. It was so much fun. There was so much force at the bottom of the falls from the water that you had to hold onto the railing or you would get knocked over! Everybody was laughing, screaming and having a great time. It would actually be a great place to vacation for a few days because there are so many great things to do there.
Mets, Yankees, Shea Stadium
After the Syracuse event, we had a week off so I went to Manhattan to try to get a little relaxation and of course enjoy the city. My good friend Dave decided to take a few days off from his job in Los Angeles and visit me in the city since he had never been there before. I had been there once before and couldn't wait to go back. I actually stayed right in Greenwich Village so there was so much to do within walking distance. Dave and I went to a couple Cubs vs. Mets games at Shea stadium and a Yankee game on Friday! I got to meet Mr. Met and got a picture with him which you can see in my 19th hole section!
I Love NY
There is so much to do in New York, but Dave and I fit in as much as we could in the four days that he was there so then I could have the weekend to rest, and boy, did I need the rest! We went to Ground Zero, Battery Park and saw the Statue of Liberty, Wall Street, the Museum of Natural History, Central Park, the Empire State Building and of course, we enjoyed as much of the night life as we could. We got to hear some great jazz, and eat some fantastic food! I think I ate too much of Ray's famous pizza. But it was so good! New York was a blast and I can't wait to go back and visit again.
Good holes for my length
I drove up to Concord, New Hampshire early Tuesday morning, got a good practice session in and survived the heat and humidity. I played a practice round on Tuesday and played great; so I felt really good about everything. I like the course and how it's set up. I figured that I could really take advantage of my length off the tee on some of the holes. There was a double shotgun pro-am on Thursday so I got another great practice session in and was feeling really confident about everything.
Where is my Short Game?
This morning there was a three hour delay because of the rain. It didn't bother me because I would much rather wait then have to play in those kinds of conditions. I was lucky that I had the first tee time because I got to finish my round unlike some of the girls that tee'd off in the afternoon and will have to finish in the morning, and then will have to play another 18 holes for Round 2. Today I hit the ball great and hit my driver even better which was the best feeling because I have been struggling with it for so long. It's like I said before: I was more aggressive with the driver today than I had been in a long time instead of trying to force it in the fairway, I just let it go and hit 13 today! I don't know where my short game went though. It was nowhere to be found. I didn't get up and down once today. The combination of that and leaving some birdie putts short in the heart makes it hard to score.
Breathing & Visualizing
Overall I can't be upset because I think I played well and hope that some putts will fall tomorrow. At this point I am just going through my same routine over every single shot. I am trying to make good habits like keeping my head still on those short putts and, breathing and visualizing. My concentration was lost for a few weeks but I am back and ready to attack!
Cheers,
Megan
p.s. check out my feature at ladiesontour.com