Written by:
megangolf |
Date:
Wednesday, June 28th, 2006
Categories:
European Tour
•
Golf For Women
•
Golf Instruction
•
Life
•
LPGA Tour
•
Site News
---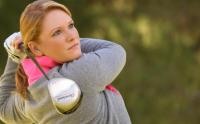 Well…See what patience brings? A couple of 68's! Finally everything came together for me this week. Ball striking, fairways and greens in regulation, and most importantly my putting. 6 birdies the first day and a bogey free round with 4 birdies the second. Then the third and final day rolls around…74 🙁
State of mind is key
I have had enough time to cool off and really think about the round and say that I choked and maybe giggle a little about it too. I have not had the experience of being at the top of the leaderboard so I was very protective on Sunday. But it's all experience and preparation for the future. Now that I have that experience of being in the second to last group on Sunday, I can learn from it and improve my state of mind. Because that's all that it is.
A life saving choice
When I first arrived in Lima, I went to the Holiday Inn to see if they had any vacancies. They were all booked up for the weekend so the receptionist helped me out by calling nearby hotels. Because there was a motorcycle event at the fairgrounds, everyone seemed to be full. I was going to go the hotel next door but then the receptionist realized that there was one more room left that he had missed on the computer; so I took it.
Drove into a tornado
Thursday afternoon I decided to head to the range but when I arrived and got out of my car, a man was yelling and waving his hands at me and a couple of girls to find shelter because there were tornado warnings. That's when I heard the sirens. Going back to the hotel, I was actually driving straight toward the storm coming from the west. I have never seen the sky turn so black, so fast. I got out of my car at the hotel and ran for the doors! I could barely pull them open because the wind was blowing so hard. As soon as I got inside the power went out.
Chaos!!!
Children were screaming and crying. Parents were rushing them around to try to find protection in their rooms and under the stairwell. A man that was staying there was yelling at everyone to get in their rooms. I asked him if I could stay in his room with his wife and his daughter. My room was on the 4th floor and there was no way I was going up there. So I found myself hunkered down in the bathroom with their 10 year old daughter in the pitch black not knowing what was going to happen next.
Are we going to survive?
Employees ran around and got everyone together. They immediately directed us to the safest place in the hotel which was a hallway at the other end of the building. There were about 50 of us in that hallway for about an hour…that seemed to last a lifetime. And I'll tell you, I can't remember the last time my heart was beating that fast.
An absolute mess
The storm finally calmed down. We all went outside and saw the damage of the winds. Next door, the whole roof of the hotel had been ripped off and debris was scattered everywhere. To think that I almost stayed there! Fire trucks, police and ambulances came and evacuated the area. Trees were everywhere, completely ripped out of the ground by their roots. Billboards had blown over. The whole area was an absolute mess and 28,000 people in the area where without power.
Thanks to all the volunteers
The golf course was in pretty bad shape as well, with a lot of trees down and branches scattered everywhere. Thanks to all the wonderful volunteers, the course was cleaned up by Friday morning and we were able to get in our first round of the Lima event with only a few light showers in the morning. The rest of the weekend, the weather was beautiful. And I shot my pair of 68s.
So, I am in Indiana now looking forward to this week. I want to get back up on that leaderboard and prove to myself that I can handle it on Sunday.
Thank you all for your wonderful comments and support.
Cheers,
Megan Heckeroth