Written by:
Tony Korologos
|
Date:
Tuesday, February 14th, 2006
Categories:
Hackers
•
Life
•
Miscellaneous
---
Alternate titles:
Random stuff you find on the golf course.
How good is Luke Swilor?
Today's match with Luke Swilor was a ton of fun. For me it was round 3 of the 2006 season and I didn't expect much from my game. Fortunately I was pleasantly surprised.
Fireworks
Between the two of us we had 6 birdies and 3 eagles during our round! That would make one hell of a two man team! Lots of fun.
Play by play
It was probably about 35 degrees when we teed off. We started on the back 9 first. We both reached the par 5 in two (I hit an easy 5 iron and Luke probably hit a wedge or 9). Luke was almost as shocked as I was when I rolled in about a 60+ foot putt for EAGLE! Luke made birdie.
Next hole was a par 4 and I was in the green side bunker. I expected the sand to be frozen like the rest of the ground was. It wasn't and my wedge got way too far under the ball and I barely got out. A 3 putt later and I'd wasted that eagle in one hole.
On the par 5 13th hole (our 4th), Luke knocked it on in two again and sank his eagle putt! I in turn birdie the next hole, a par 4. Luke follows with a birdie on #18 (our 9th). Even with a couple of pops I still was 3 down.
On the front (our back) I started out smokin'. I parred #1 while Luke bogeyed. I then rattle off two birdies in a row on the following par 3 and par 4 holes. I'm up 3 with pops to come.
Luke followed my birdies a couple of holes later with a birdie on #5, a par 5 which he knocked a 3-iron on from about 250. Keep in mind it's maybe 40 degrees at this point.
I end up winning the back but the bugger Luke pressed on the 2nd to last hole. We tie that hole so it comes down the the final hole, a short par 5. Luke pushes his drive (see pic) under those trees way out on the right. I draw my drive around the corner but end up with a "tree up your ass" swing and can only wedge it out to 190. That was only my 2nd fairway missed all day. Luke hits an amazing restricted back swing 4-iron punch onto the green to about 10 feet! He makes another eagle to win the press and totals.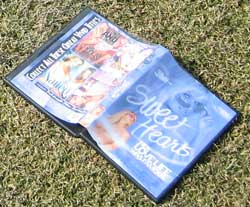 Total scores:
Luke Swilor 67
Mediaguru 72
Luke wins $7.00
I'm quite happy with how I drove and putted. Especially for the 3rd round of the year. I think Luke didn't have his A game. That's scary since he still shot a 67. I'd guessed he'd shoot a 66 on that course.
Strange things you find on the course

Out in the middle of nowhere we found this dvd case. It's the case for a porno movie.
Here are my stats for the day, courtesy of mygolfdomain.com's stat tracker:
Fairways 12/14 (86%)
Fairways Front Nine 5/7 (71%)
Fairways Back Nine 7/7 (100%)
Greens 10/18 (56%)
Greens Front Nine 5/9 (56%)
Greens Back Nine 5/9 (56%)
Avg Putts 1.61
Avg Putts Front Nine 1.56
Avg Putts Back Nine 1.67
Avg Putts Per Green in Regulation 1.6
Avg Putts Per Green Non-Reg 1.63
Zero Putts 0 (0%)
One Putts 8 (44%)
Two Putts 9 (50%)
Three or More Putts 1 (6%)
Sand Saves 0/1 (0%)
Non-Sand Saves 4/7 (57%)
Total Saves 4/8 (50%)
Eagles 1 (6%)
Birdies 3 (17%)
Pars 10 (56%)
Bogeys 3 (17%)
Double Bogeys 1 (6%)
Triple Bogeys 0 (0%)
Others 0 (0%)
Par 3 Avg Score 3
Par 4 Avg Score 4.1
Par 5 Avg Score 4.75
Par 3 Green in Regulation 1/4 (25%)
Par 4 Green in Regulation 7/10 (70%)
Par 5 Green in Regulation 2/4 (50%)