Written by:
Tony Korologos
|
Date:
Tuesday, January 10th, 2006
Categories:
Miscellaneous
•
PGA Tour
---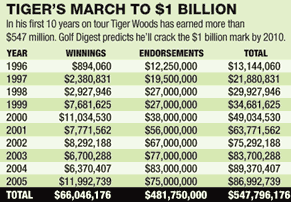 Bogeyman has the scoop on this one so go read it at bogeylounge.tv.
In short golf digest has projected El Tigro's earnings and he'll have made a cool Billion (with a B) by 2010.
I think his personal wealth will reach that mark sooner than that if he's investing what he already has wisely.
I knew I should have practiced golf more…