Written by:
Tony Korologos
|
Date:
Saturday, January 7th, 2006
Categories:
PGA Tour
---
Years ago when Fred Couples played so well at Kapalua they called it "Couples-lua." Now they're going to have to name it "Applelua" or "Stewalua" or something. Appleby takes a two shot lead into Sunday at -6. Campbell is 2 back, Furyk 3, Glover 4 and Singh 5.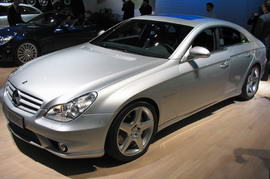 The winds are still high but the pins are a bit more friendly. In fact one pin was extremely friendly to Lucas Glover. Lucas Glover won himself a new car with a hole in one on the 8th hole! It's not just any car, it's a Mercedes CLS55 worth about $90,000 (pictured).
Appleby should win unless he makes a major mistake or Campbell has a stellar round. OK, fine. Now Stewart, can you win another tournament? 🙂
Jason Gore almost got his third 80 in a row but instead shot 81. He's now in last. But the good news for him and anyone else IN the field is that it's guaranteed dough. I believe last place is good for about $70,000. I feel like I'm perfectly capable of shooting 4 rounds in the 80's and collecting $70K. I'd love the chance!
The Punch Driver
By the way, it's been very cool to watch the pros hitting "punch drivers." Appleby, Singh, Garcia and others have been hitting low stingers with their drivers. The balls are hardly getting off the ground and they're rolling 50+ yards after they land. Vijay is actually hitting his driver off the deck on the tee! Man these guys are good.