Written by:
Tony Korologos
|
Date:
Friday, December 9th, 2005
Categories:
Golf Apparel
•
Miscellaneous
•
Reviews
---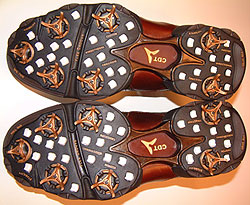 Hi-Tec CDT Golf Shoes
These are about the most well thought out and designed golf shoes I've ever seen. Hi-Tec took into account all aspects of the golf swing when designing the CDT's.
Padraig Harrington even says he's added a ton of distance off the tee by using Hi-Tec CDT Golf Shoes.
Click here to read my CDT Golf Shoe review.
Ready, sing!
On the first day of Christmas my true love gave to me…Maxfli Blackmax golf balls
On the 2nd day of Christmas my true love gave to me…Gimme A Ruling golf rules game
On the 3rd day of Christmas my true love gave to me…An Ogio Grom stand bag
On the 4th day of Christmas my true love gave to me…A lesson from a PGA pro
On the 5th day of Christmas my true love gave to me…Harvey Penick's Little Red Book
On the 6th day of Christmas my true love gave to me…An r7 Dual TP 3-wood
On the 7th day of Christmas my true love gave to me…Hi-Tec CDT golf shoes