Written by:
Tony Korologos
|
Date:
Monday, December 5th, 2005
Categories:
Site News
---
We interrupt the Golfer's 12 Days Of Christmas to bring a special announcement:
Happy blogday to Hooked On Golf Blog
One year old today!
As of the 1 year anniversary there are 488 posts and 392 comments. Comments before April 2005 are MIA though.
Some HOG history (if you can call it history…)
–>This blog was started at 9:32pm on December 5, 2004 at http://hookedongolfblog.blogspot.com. I originally started out as one of a million other blogger blogs. My template looked exactly the same as 100,000 others. I used blogger until I finally got fed up with the limitations it had. I really got fed up with the way it would just hang up: "Publishing….. Publishing….. Publishing……" forever. I'd cancel and try it again and the same thing would happen. Then an hour later I'd check my blog and there would be 5 copies of the same post.
–>During Masters week of 2004 I registered my own URL and powered up WordPress. I was able to import all my blogger posts into WordPress, but not able to port over the comments. So pre-April there are no comments now. I'd compare WordPress to blogger like this: Augusta National compared to a flea bag municipal executive course.
–>I happily blogged about whatever golf subject I wanted to with no idea how long I'd be doing it or where it would go. For the hell of it one day I was trying to make my blogger template look better so I put a ProV1 ball up in the header. Not 15 minutes later I got an email from some guy I've never met before who offered to send me a box of Maxfli prototypes if I took it down. And that was HOG's first "sponsor."
That one moment changed my outlook on what this site could be forever. I realized that there were hardly any golf blogs out there. I'd say at that time there were about 5, maybe 10. And only 3-4 were worth a damn. Those 3 or 4 are still around and are some of the biggest and most popular golf blogs in cyberspace.
–>On 1/5/05 I started up my golf forum: Web Country Club. Getting a golf forum hopping is much harder than a golf blog and that was quite a learning experience. WCC is no golfwrx by any means. They have about 8000x as many members. But give it some time…
Here is the first golf blog post I wrote from 12/5/04:
I've got a pal who lives about 2300 miles from me. He's my best friend and he's a big time blogger. His blog has had 6,000,000 hits this year! So he talked me into playing around with blogs. This is my first real blog so here goes!
I'm a golf freak. I play 4-5 times per week. I'm self employed and I pretty much prioritize my work schedule around my golf rounds. I should be more serious about my business life but I swear I have a major addiction. It could be worse I guess. I could have an alcohol addiction or drug addiction. It's just golf so it is no harm, except it can be expensive.
I get so mad sometimes I swear I'll never play again. As soon as one of my golf buddies calls up I'm out the door. I've got a core group of about 8 guys who are all very good golfers. Most are 5 handicaps or less. We even have a couple of scratch players. We always bet and have many team games. It is a lot of fun and I can usually come out OK with my bets if I play well. I can pay for my round and make a buck or two with a decent round.
Well OK that is my basic first post. I'm going to try to set up this blog and make it look cool now.
At least id didn't sound like a million other first blog posts: "Hi. This is my new blog. I hope I can find something to write about. OK, bye. Giggle giggle."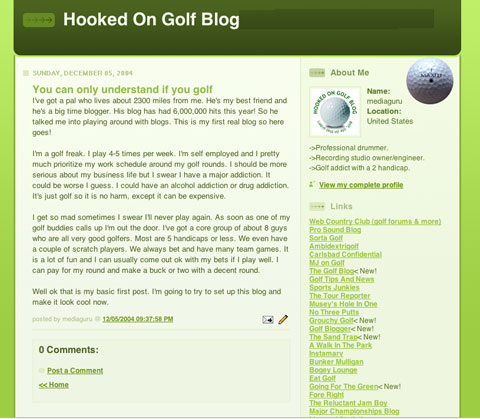 The future?
I've had SO much fun blogging about golf. I've learned more in this last year about golf, computers, marketing, business, nice people, ass holes, google…. you name it. I've gone from 1 web site to over 10.
I've had offers to merge with other golf sites. I've written for other sites (golf and other subjects). I've met so many cool people (and a few jerks). I've found some amazing golf products through my newly formed "connections" and I've formed valuable business and friend relationships.
I have every intention of trying new things, and seeing just where this site can go. Maybe some day a big company like Titleist or Ping will come to me and say "Tony, we'd like to offer you a bunch of money and free golf gear if you'll be our in house golf blogger. Oh, and you'll have to golf a bunch as part of your job as well. Don't worry, we'll pick up the tab…"
You never know…
A year of golf blogging is in the books. I sincerely hope one year from now I'll be writing "two years of golf blogging is in the books."