Written by:
Tony Korologos
|
Date:
Saturday, October 22nd, 2005
Categories:
Miscellaneous
---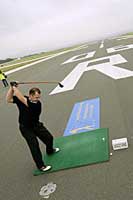 Paul Slater set a new world record with a 720 yard drive down the London City Airport runway. He beat the previous record held by Stuart Appleby of 696 yards.
"I knew it was right as soon as I hit it" said Slater.
Hey Paul, how's your record as a professional golfer? Gimme a friggin' break.