Written by:
Tony Korologos
|
Date:
Saturday, September 17th, 2005
Categories:
PGA Tour
---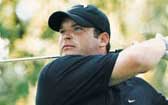 Jason Gore has put himself in the final group tomorrow at the 84 Lumber Classic with a 67 today.
What a great story it would be for Gore to break through and take advantage of his 2 stroke Sunday lead.
I'm still wondering when the Gore/Nike commercials will be hitting the airwaves. You know they will eventually.