Written by:
Tony Korologos
|
Date:
Monday, August 29th, 2005
Categories:
Miscellaneous
---
(This post is the final in the series about my experience at The Champion's Challenge)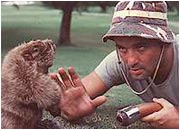 While following Jack Nicklaus around for a couple of hours at the Champion's Challenge, my 8 year old daughter got a little ahead of us. She's a skinny, bubbly, cute little ball of energy who can make friends anywhere…even with Roger Maltbe.
She'd been missing for a good hour by the time I made it back to the clubhouse. I found two security guys and asked if they had any lost little girls. They asked if she was the girl wearing the leopard skin shirt and skirt. I said "yes, now what has she done?" They proceed to tell me the Bill Murray story:
Somehow it seems that my little daughter not only got close enough to meet Bill Murray, she was riding around in his golf cart with him. There were crowds so thick around his cart that they were 5 deep in all directions. He was introducing my daughter as "his wife" and posing for pictures with her. Murray called Jim Furyk over to meet her and Furyk gave her an autographed golf ball.
Unfortunately I didn't get to witness any of this. I was getting this whole story from the two security guards with my jaw hanging open.
While listening to the security guard's story, my daughter walked up and happily said "hi dad" as she ate a blue snow cone. After giving her some hell about wondering off, I asked her where she got the snow cone as she didn't have any money. "Bill" bought it for her…
My daughter didn't even know who Bill Murray was. She just thought he was a pro golfer, like the other players we'd met that day. Now I have to find her a version of Caddyshack (with out the boob scenes), Ghostbusters and whatever other movies Bill was in that she'd like.