Written by:
Tony Korologos
|
Date:
Tuesday, August 23rd, 2005
Categories:
PGA Tour
---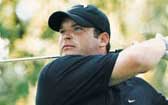 I just checked out the Buick Championship field. Tiger wasn't in it, so I guess someone else gets to win this week…
I did see Jason Gore's name on the list though! No doubt he'll be the big story for the week. How do you think he'll do for his first event as a card carrying PGA Tour member? He's already got some great tour experience so I don't think he'll be too nervous.
Like I said before, I bet Nike is really glad to already have him in their pocket. I wonder when the first JG Nike commercial will be out.