Written by:
Tony Korologos
|
Date:
Sunday, August 21st, 2005
Categories:
PGA Tour
---
Notes about the NEC Invitational.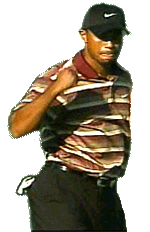 Tiger is good. He made an awesome birdie on #16 after driving it into the trees. He had to punch out to about 195 yards. He smoothed a 7 iron to 17 feet and made an improbable birdie. He took the outright lead into the last two holes and never gave it up, despite driving it in the trees on 18 as well. (Sounds like the '05 Masters).
Tiger won his 5th tourney of the year to extend his #1 ranking and money lead. He's looking at the rest of the PGA Tour in his rear view mirror now.
Speaking of the '05 Masters, Chris DiMarco had posted his score of -5 and was in the clubhouse watching Tiger knock it in the trees. He was hoping for a chance at another playoff but that never happened.
Stuart Appleby had some interesting nuggets. First he knocked a drive on 16 over 400 yards for the 3rd time. 2nd, he was penalized two strokes because his caddy picked up his moving ball which he'd dropped near the cart path. The ball apparently has to travel two club lengths before it can be stopped.
Kenny Perry just plain melted down. He had it to -8 at one point but jumped on the bogey train and made stops at most of the holes en route to a 74 and a tie for 6th.