Written by:
Tony Korologos
|
Date:
Tuesday, August 9th, 2005
Categories:
Course Reviews
•
Golf Courses
•
Reviews
---
Wolf Creek Golf Club: Extreme beauty, extreme golf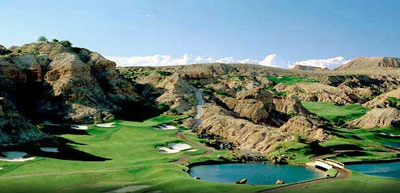 As I've said in several posts here previously, Mesquite Nevada is becoming a golf mecca. Mesquite was once a tiny little state line gambling town between Utah and Vegas. Years ago there was basically one casino there called the Peppermill and nothing else. Now Mesquite boasts several fairly large casinos and several amazing golf courses.
Wolf Creek Golf Club is definitely in the "amazing" category. It is more amazing from a scenic, design and architectural standpoint than from a golf purist's standpoint.
Course Design & Architecture
Wolf Creek was built on the plateau range Northwest of the town of Mesquite. The views from nearly any angle are beautiful. The course design is visually spectacular. If you get the chance to play there, bring your camera and plenty of film (or plenty of digital media storage if you're like me).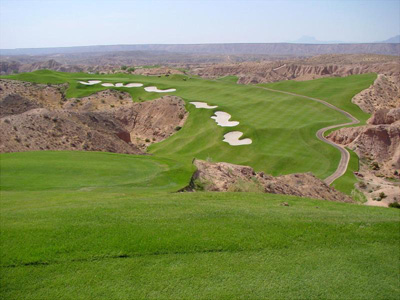 Some of the golf holes are in such extreme terrain that the tractors which formed the fairways and greens had to be flown in by helicopter. Many of the tee boxes have long stairways leading up to them and railings around them to keep you from falling to your death. I'm not kidding. There are many holes with severe drop offs or up slopes. The course winds in and out many red rock canyons and up and down the plateaus and hills.
A few of the many accolades for Wolf Creek:
Ranked #22 2003-2004 Americas 100 Greatest Public Golf Courses
Golf Digest
Inclusion in 'The America's Best Modern/Classical Golf Courses'
Featured in March 2003 issue GolfWeek Magazine
Voted '2002 America's Best New Course'
Golf Digest
Ranked #48 in '2002 Top 100 You Can Play'
by Golf Magazine

The Experience
There are 5 sets of tees for every level golfer. When I played there, they wouldn't let me play the longest tees called the "Challenger." I guess you have to be a pro to play them. As a verifiable 2 handicap via the computer in the clubhouse they still made me play the next set of tees: the "Champions" tees. My scorecard read a total of 6994 yards from the Challenger tees, yet their web site states that the course is 7018 yards.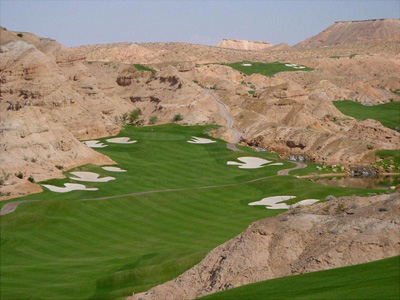 When I played Wolf Creek they proudly displayed the price of $200 in the pro shop. Fortunately I was able to find a package for $99 which got me a room, dinner and a round of golf through one of the local casinos. The $200 price drops considerably in the middle of the Summer (the off season) when the temps reach near 120 degrees. Next time I play there perhaps they'll comp me when I flash them my golf blogger ID card.
Playing the course was quite fun. It was very difficult to judge the yardages on the severe up and down slopes. Many tee shots have a fairway that looks like it is miles away, but I drove shots through the dogleg on many of them due to the altitude drop. There were many situations where some course knowledge would have come in handy as far as carry distances and such.
I did find that from a "golf purist's" standpoint some of the holes were a little on the circus side of course design. The 3rd hole (par 3) had such a severe uphill shot that all I could see was the top of the flag stick. I don't really like par 3's that you can't actually see the green, call me crazy. Many of the holes seemed to be designed for their picturesque beauty and not their playability. Many holes were simply designed to the extreme in difficulty. Perhaps they were going for some kind of difficulty recognition. If they were, they got it.
The USGA rated Wolf Creek at a 75.4 and a slope of 154. The max allowable USGA slope is 155. See, extreme. The USGA also ranked Wolf Creek the 3rd most difficult course in America.
Conclusion
Overall I'd rate the course an A for scenery and a C for playability. Many of the holes were on the circus side of things for my taste.
However I would recommend everyone play Wolf Creek at least once if they get the chance. If you're in Vegas and thinking about golfing, head 1 hour up I15 and play it. I've seen many Vegas casino limos in the parking lot so I know they'll take you there. Some courses in Vegas can be as much as $500 and many of them can't hold their own against Wolf Creek.