Written by:
Tony Korologos
|
Date:
Sunday, August 7th, 2005
Categories:
PGA Tour
•
Web.com Tour
---
Introducing the newest member of the PGA Tour: Jason Gore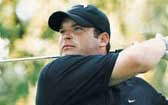 Gore fired a final round 63 to finish in a tie with Roger Tambellini at the Cox Classic. On the second hole Gore nailed a four-foot birdie putt for the win.
By winning his 3rd consecutive Nationwide Tour event today, Jason gets a one way ticket to the PGA Tour. The term for this unusual promotion is a "Battlefield Promotion." Other players who have received battlefield promotions include Chad Campbell, Heath Slocum, Tom Carter, Patrick Moore, Chris Smith and Pat Bates.
Jason won't be in the field at the PGA Championship this week, but he should tee it up at the Reno-Tahoe Open.
Welcome to the PGA Tour Jason. Hope you have as much fun there as we will watching you.
P.S. I bet Nike is really glad they had him on their payroll previously.