Written by:
Tony Korologos
|
Date:
Wednesday, August 3rd, 2005
Categories:
Champions Tour
•
Miscellaneous
•
PGA Tour
---
(This post is one of an ongoing series about my experience at The Champion's Challenge)
At The Champion's Challenge I got to meet a bunch of pretty famous golfers.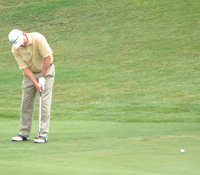 Hale Irwin (pictured putting) walked right by me and I told my kids to track him down and get an autograph. He disappeared into the crowd and the kids didn't know who he was so they missed him. Somehow my kids got his autograph later in the day and I didn't even see where or when. Good job kiddies.
Then about 10 seconds later, Fuzzy Zoeller walked by me. He walked in kind of a flowing, sauntering fashion. He didn't stop when I asked for an autograph on my Masters flag, he just held his hand out while walking. He walked right through the autograph and held the flag behind him and actually never looked at me through the whole process. I'm not a big Fuzzy fan after his Tiger comments, but I want Masters champions on my flag and he is one.
10 more seconds goes by and there's The Walrus, Craig Stadler. He must have gone to the Fuzzy Zoeller walking school because he walked the same way. I'm not a tall guy, but I'm taller than Craig. He too held his hand out and continued walking while autographing a Masters golf ball. I screwed up and didn't get him to sign my Masters flag dammit!
The next guy I ran into was Billy Casper. Billy was a heck of a nice guy. In this post I tell the whole story about meeting him. Long story short, a second Masters champ on the flag. Smokin'.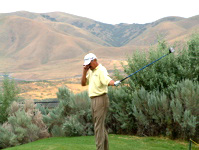 Gary McCord talking on his cell phone
Then I met one of my absolute favorites: Gary McCord (pic talking on his cell phone). I had a plan for Gary the whole time. Love him or leave him, he's always good for some kind of nutty comment. So I handed him one of those old pink Flying Lady golf balls to autograph. He didn't even double take or say anything about signing it. I thought I was pretty funny, but Gary didn't even seem to notice. (Actually he probably just didn't care).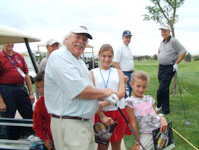 Roger Maltbie & the kids
Roger Maltbie was near and I talked to him a little bit. I didn't really care to get his autograph. Later on at the end of the day, my kids gave Roger a bunch of grief and messed around in his golf cart. They got his autograph. He asked my 8 year old daughter what she though his autograph was worth. Her reply: "One penny." He laughed and said "that's a little high don't you think?" Roger was cool to my kids, so he's cool with me.
Met that long drive dude, Jason Zubak. He has some pretty big guns for arms and he knocks that ball about as far as I've ever seen. My kids got his autograph on an old beat up ProV1. Someone who obviously didn't know anything about Jason asked him what ball he played. "Pinnacle of course." Yep, premium balls those pineapples.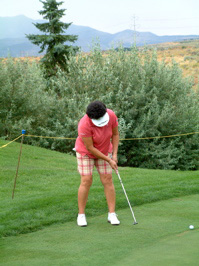 Nancy Lopez
Nancy Lopez was very nice. She was the only real famous female golfer in the bunch, unless you count Johnny Miller's playing partner Cheryl Ladd. Even though she's older and has that slow swing, she still hits the ball pure. (See my Johnny Miller take in another post).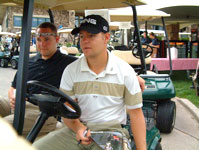 Ryan Moore
I chatted with Ryan Moore for a little while. Asked him how the PGA Tour is treating him. He said he had taken a week off, but was ready to get back into the swing. He's a sharp young guy and was pretty cool to me and the kids. So I'm now a bit of a Ryan Moore fan.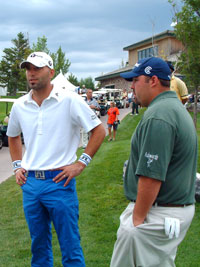 Hank Kuehne & Kevin Stadler
I watched Kevin Stadler hit some balls on the range. He looked like your average Joe, but hit the ball like no average Joe I've seen. I ran into Kevin and Hank Kuehne and chatted with them for a few minutes. They were cool. It takes some golf balls to wear outfits like Hank wears sometimes and those blue pants were no exception.
Bobby Wilson was some kind of yapper. Seemed pretty cool though.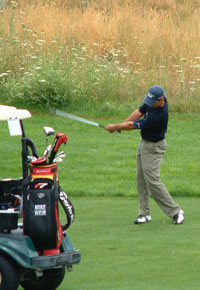 Mike Weir
Meeting Mike Weir was quite cool. We caught up with him mid round. He was actually giving his amateur playing partners quite the lessons. I listened in to Mike's comments as much as I could. I took a snapshot of his crazy bag. He was wearing those funky new Adidas shoes too. I also got Mike to sign my Masters flag. Sweet, 3 Masters champs!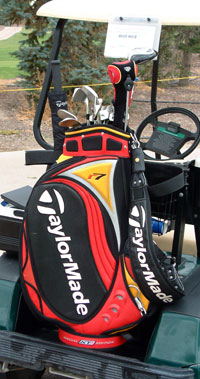 Mike Weir's Bag
Jack Nicklaus was my 4th and final Masters champ to sign my flag. He also is the only autograph on my St. Andrews 2005 Open Championship flag. Talk about an awesome ebay item… Never. Check this post for the full Jack story.
Look for a post covering a great Bill Murray story and another one about Johnny Miller…