Written by:
Tony Korologos
|
Date:
Sunday, July 31st, 2005
Categories:
PGA Tour
---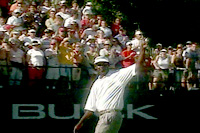 Twas an entertaining weekend of golf on the PGA Tour. It was nice to see #1 and #2 duke it out in a shootout. We saw some 29's, 30's and 31's for for 9 holes. Low shootin' Tex.
Today Vijay came into the round with a 5 shot lead and Tiger made it interesting with an absolutely amazing back nine. After shooting 36 on the front, Tiger put together an amazing stretch of holes on the back to record a 30. That 30 included a bogey on the 18th hole after an errant drive. Speaking of drives, Tiger hit one 359 on flat ground with no wind on #16. What a hack.

The gallery on the par 3 17 went crazy when Tiger made birdie. Tiger had some fun with them, holding his hand up to his ear as if he couldn't hear them (above picture). Maybe Tiger wasn't having fun with the gallery at all. Perhaps he thought he heard the Celtic Woman CD playing somewhere?


Oh, and I must mention that I was thrilled to see the return of the Celtic Woman ads. I just get a kick out of these ads and wonder if there are ANY golf fans who rush to the phone to order their Celtic Woman disc.
Another great one was "50 Most Loved Hymns"… Are we hurting for decent sponsors CBS?