Written by:
Tony Korologos
|
Date:
Monday, June 27th, 2005
Categories:
Golf Accessories
•
Golf Equipment
•
Reviews
---
What do Bruce Fleisher, David Feherty, Billy Andrade, Scott McCarron, The Reluctant Jamboy and mediaguru (yours truly) have in common? We all wear Peak Vision Sports Sunglasses.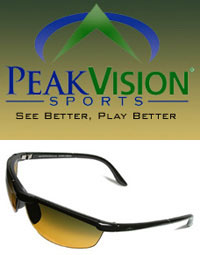 Peak Vision Sports makes many different sunglasses for golf, skiing, baseball and other sports. Peak Vision's glasses not only look cool, they employ some interesting technology to help you with your game. Let's check it out.
The technology
Standard sunglasses (like the kind you see on people's hats and not their eyes) are manufactured with injection molded polycarbonate. These lenses do help cut out glare and protect your eyes from UV light, but also filter out much of the color needed to judge the contour of the terrain. Lenses manufactured this way can have poor optical clarity and distortion. The distortion also interferes with your ability to judge distances and read course contours.
Peak Vision's glasses use a material called NXT (no, not the material used in NXT golf balls!) which provides the same clarity as optical glass. The material is also very light and scratch resistant.
The Peak Vision lenses have two noticeable "zones." The gray upper zone is darker and eliminates glare from the sun while enhancing your distance perception. The amber lower zone is lighter and allows you to see the contours of the green better. It is basically like having a set of bifocals that are built for different lighting from top to bottom. The two zones blend or dither together. The combination of these two zones into one lens results in a more even optical response curve across the board. Other glasses typically only cover one of these two issues.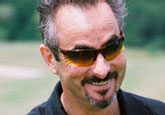 The style
I've watched David Feherty and especially Billy Andrade and noticed how sharp their sunglasses looked. Peak Vision's designs are very sharp, modern and classy looking without bordering on the bizarre. Don't get me wrong, I don't mind high tech looking glasses, but some can make you look like an insect from outer space wearing radiation glasses.
I've gotten many positive comments about the look of my glasses. I have two pairs: The Classic 4653's in black, and the Chip Polished Tortoise. Sorry, but I can't link directly to these individual products on their site because the pages are flash based.
Accessories
My glasses came with a hard shell case which will come in handy when throwing them in my golf bag. They also have a soft cloth case which doubles as a lens cleaner.
On the course
Having used an "other" brand's glasses for years I was shocked when first put on the Peak Visions. All the sudden I was seeing the green grass of the course with detail I was completely unaccustomed to. The green colors of the grass and greens just jump out at you with great detail. The "other" brand's glasses seem to cut out this color and detail rather than enhance it.
The glasses are very light weight. When the lenses are clean you don't even realize they are on your head. I don't know if my head is a funny shape (no comments please), but I had to bend the Chips slightly to get the right fit.
I do like that fact that both of my sets don't have a "nose piece." My other pair of sports glasses did have a rubber nose piece, until I lost it. Now I need to order one because none of the local dealers carry that part.
Putting:
Peak Vision claims that you'll putt better when wearing their glasses. I'm a pretty darn good putter anyway so I was anxious to test this theory. It was quite entertaining when I told my buddies about my new glasses and how they are supposed to help with putting. On the first green I had a lengthy par putt with a very slight break. I solidly drained it. Then next hole I had a birdie putt about the same length and boom, nailed that one too. I had to laugh at that point because my opponent told his friend "We don't have a chance. He's got those damn sunglasses." He has since asked me where he can get a pair!
Room for improvement?
In my reviews I try to express what I would change or improve with the product. Peak Vision's glasses are top notch. But if I was running the show I'd evaluate these issues:
1. I do like to wear my glasses outside of my hat, not resting on my ears. I can do this with the Chip model but not the Classic because of the bend of the ear piece. (The Chips are straight, the Classic bends around the ear). Even so, the lack of rubber on the ear piece makes them slip off my hat. If put either pair up on my hat (for darker conditions), they don't stay on during the swing without that rubber.
2. As I mentioned I did have a shape issue with the Chips. I did have to bend them to get them to a uniform shape the first time….or my head is a funny shape.
3. This may come with time, but more sales channels would help. A couple of my friends have tried to find Peak Visions at certain retailers unsuccessfully.
Conclusion
Peak Vision Sunglasses are a dramatically better alternative to many other sports glasses. I firmly believe they can improve your reading and interpretation of course contours and breaks. They can't hit the shots for you, but they can give you the confidence that you know what shot to hit.
Free shipping
The kind folks at Peak Vision sports have offered a free shipping deal for us. While ordering online, use the discount code FREESHIP for free FedEx ground shipping.