Written by:
Tony Korologos
|
Date:
Sunday, June 19th, 2005
Categories:
PGA Tour
•
Tiger Woods
---
Michael Campbell wins the 2005 US Open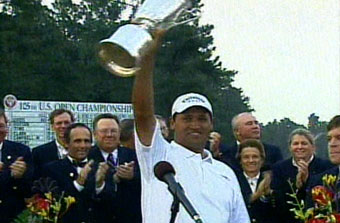 What I thought couldn't happen did. Mr. Cool melted down. Goosen shot an 81 and dropped from having a 3 shot lead to a tie for 11th at +11. It was hard to watch. The network thought so too as they stopped showing the meltdown about halfway through the day's round. Other meltdowns today included Olin Browne with an 80, Jason Gore with an 84.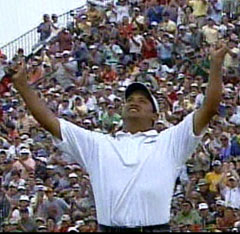 The man of the day is Michael Campbell. Talk about steady… he shot 71, 69, 71, 69 under US Open conditions to win. That is awesome. What a gutty performance today. Tiger was making a serious charge and Campbell answered all the shots Tiger had. Tiger made some bad mistakes in the last few holes, including a uncharacteristic 3 putt to allow Campbell the victory.
So congrats to Michael Campbell. He's been riding a roller coaster over his golf career and this will will change him forever.
I personally like seeing the winner at even par. That's the way it is supposed to be. That is how I voted in the latest poll.
The Golf Channel (aka the Tiger Woods Channel) is covering the post game now. I'm watching all of this footage and commentary on Tiger. Tiger this and Tiger that. Dudes, WHO WON THE TOURNAMENT? Why not talk about Campbell a little tiny bit too?

The USGA got just about everything they wanted this year (Tiger didn't win though). They had a tough course which provided an even par winning score. They had Tiger in the mix. And they didn't have players whining and complaining about the course being too hard.
My golf blogging pal Jay Flemma is at the US Open representing us bloggers in a good way. He has interviewed the likes of Goosen, Jantzen, Funk and more.