Written by:
Tony Korologos
|
Date:
Sunday, June 5th, 2005
Categories:
Champions Tour
•
Golf Media
•
PGA Tour
---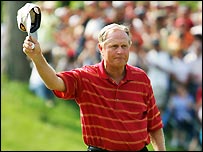 As far as I'm concerned Jack can just keep making farewell appearances. It was a privilege for me as a kid and adult to watch him play in the middle to end of his career. I only wish I would have followed golf a little more closely when I was younger.
I got the chance to follow Jack around for 18 holes at a then Senior Tour event in my town. He also played with a couple of other players you may have heard of: Arnold Palmer and Lee Trevino. That was very cool to watch.
Thanks for all the great performances and memories Jack. See you at St. Andrews.