Written by:
Tony Korologos
|
Date:
Monday, May 23rd, 2005
Categories:
Hackers
•
Miscellaneous
---
Sunday I had a "money" game at one of my favorite local courses with 7 other "players." These players are all 5 handicaps or less (some scratch). The weather was beautiful and the golf was great. One player shot a nice 32 on the front. I managed one under on the front and even par on the back for a 71 (-1). I had 4 birdies and one double. The biggest birdie was on 18 which was the dagger in the heart for all the other 7 players. I was the big winner, took away all the skins and won every bet.
Why did I play so well yesterday? Simple: PREPARATION. How did I prepare? I didn't go to bed early. I didn't practice late on my putting. I didn't take vitamins. I didn't watch the golf cybervision video.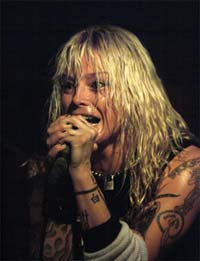 Here's the secret:
As a rock & roll drummer I happen to love very heavy rock & roll. I've gotten to be a big fan of OTEP, which is a very mean, mad, heavy, fast, brutal metal band with a very interesting female singer. I attended Otep's show Saturday night, the night before my big money game. The picture here is actually from the show, taken by my pal Matt Hepworth.
The show was a 4 band billing and the first 3 bands were pretty decent. Otep didn't even take the stage until about 12:30am. The amazing and brutal show didn't end until 2:00am. I was about 8 feet from the stage and got caught in the "mosh pit" several times. Note to self: Don't wear sandals to a mosh pit.
I'll soon post a complete review of the show at my other blog: Pro Sound Blog.
I got home at 3am, tired, ears ringing and with bumps and bruises from the most pit. I woke up at 6:00am and headed out to the course completely delirious. After starting out par, birdie-birdie, it was all history.
So if you have a big round of golf or a tournament coming up, go down to your local heavy metal club, jump in the mosh pit and bang yourself around. Then get home really late and make sure you only have 3 hours of sleep at the most. You'll be victorious.