Written by:
Tony Korologos
|
Date:
Saturday, May 21st, 2005
Categories:
LPGA Tour
•
PGA Tour
---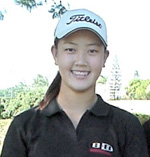 "These guys….ahem…and gals are good?"
Fifteen-year-old Michelle Wie has accepted a sponsor's exemption to play in the PGA Tour's John Deere Classic July 7-10 in Silvas, Ill. She is also attempting to qualify for the men's US Open. She played earlier this year at the Sony in January where she missed the cut.
The new poll addresses an interesting question: Should women be allowed to play in PGA Tour events?
I'm of the thought that if they can properly qualify and compete then sure. I do not believe it is fair for a popular woman (like Wie) to gain entry into a PGA Tour tournament just because they are a good TV draw. There are guys who are staking their life savings and future on the chance to play on the PGA Tour. Though their playing resumes may be better, they are not 15 year old females who can bomb the driver 290 yards and therefore don't get the chance?
I believe at some point Wie is going to have to actually live up to her "potential." She hasn't even won an LPGA event yet. Let's stop putting the cart in front of the horse.
I also wonder what image LPGA golfers may get if they do start playing against the men on a regular basis. Will it be an embarrassment for them? Will they just get their lunch handed to them on a daily basis? I believe that scenario is highly likely.
So take a second to cast your vote (lower left column) and we'll see what the "pundits" have to say.