Written by:
Tony Korologos
|
Date:
Monday, May 16th, 2005
Categories:
Golf Accessories
•
Golf Balls
•
Golf Equipment
•
Reviews
---
RadarGolf to release a BPS (Ball Positioning System) that will help you find lost golf balls this fall.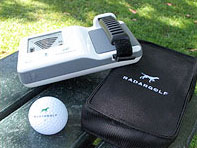 The Technology
If James Bond were a golfer he would certainly own a RadarGolf BPS System. This is a system where you have a golf ball with an embedded chip which reflects a specific radio frequency which is transmitted by a small hand held device you keep in your bag or golf cart. The handheld gives you a audio and visual signal levels indicating your proximity to your ball. You find your ball, save yourself strokes, speed up play and lower your frustration.
The range of the system is anywhere from 30 to 100 feet depending on terrain. On flat ground the range is about 40-50 feet. The system actually works better on uphill or downhill slopes with a range of roughly 50-100 feet.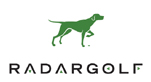 My chat with Steve Harari, CEO of RadarGolf
I had the chance to discuss the new RadarGolf BPS system with their CEO Steve Harari. He was just on his way to do some on the course testing of the system. Rough gig. He was a very nice guy and was more than happy to answer my questions.
My first question was about the legality of the system. They'll first tell you that the ball is legal. Sounds great. But using the transmitter with the ball is not. So if you are out with your buddies for a casual round and they don't care you can use the system. But in a tournament or a more strict rules situation, the complete system is not legal.
Range finders and GPS systems are also not legal, but I think in the next couple of years the R&A and USGA will legalize these. For one, I think they'll speed up play. Steve thinks it will be several years before a system like RadarGolf's may become legal, but hopes that the legalization of GPS systems will aid in their cause.
My next question was about the ball itself. Can I use any ball I want? No. Only RadarGolf balls have the embedded chip in them. You couldn't take a ProV1 and stick the chip in it without damaging the ball (and probably the chip). So you have to buy RadarGolf's golf balls.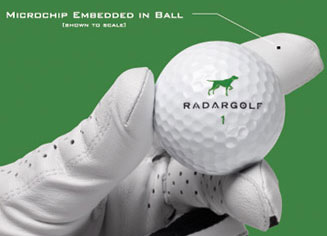 Above: RadarGolf ball and microchip
Even with the RadarGolf system you will still need new golf balls. You can still knock one in the lake or OB. And you can still hit the cart path or scuff a ball enough to have to take it out of play. A replacement dozen RadarGolf balls is priced at $39, comparable to many balls on the market. I was actually surprised they were that cheap.
In Steve's words the RadarGolf ball is long and soft. It compares to the Mojo, Noodle and ProV1x. I've hit the Noodle and the V1x and think they are completely different however. The Noodle is a much softer ball than the V1x in my opinion.
RadarGolf's Goal
RadarGolf isn't the biggest golf company in the world. They don't have the resources to advertise and produce golf balls on the scale of the Nikes and Titleists of the world. They hope to have large companies license their technology and integrate it in theirs.
With about 50% of the ball market in their back pocket, Titleist would not be likely to license the RadarGolf system. But a company who needs a more competitive edge like Nike just might. Nike could use the system as a marketing ploy to increase their market share.
Availability
The RadarGolf system is not yet available. Test units will be available in June of 2005. Shipping units will be available in September of 2005.
It is my hope that the folks at RadarGolf will send me a test unit so that I may do a complete review when they become available.
Pre-orders are being taken now for the RadarGolf system. Click here to reserve yours.
Pricing & Accessories
For the price of $249.00 the RadarGolf system comes with one RadarGolf Handheld, one dozen RadarGolf Balls, one handheld protective carrying case, 6 AAA batteries and the owner's manual.