Written by:
Tony Korologos
|
Date:
Sunday, May 15th, 2005
Categories:
LPGA Tour
•
Tiger Woods
---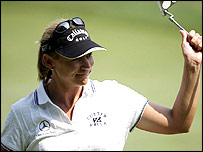 Now is a great time to be a golf fan. It seems like every week some great historical event in golf takes place. We have the joy of watching the "Big 5" competing (even though none of them won this week).
All due respect to Mickelson (26 wins), Vijay (27 wins), Goosen (5 wins), Els (15 wins) and Woods (43 wins). Annika has 60 wins as of her 10 shot victory today at the Chick-Fil-A Championship. Annika has more wins than Phil, Vijay and Goosen combined. She has more wins than Woods & Els combined. I could do all the combinations but I think you get the point.
How about another stat for you. Annika's 10 stroke victory today is twice the number of strokes than Tiger's margin of victory for all three of his 2005 wins. We have not seen a dominance of the score board like that this year on the PGA Tour.
How about winning 5 in a row, and 6 out her 7 last starts? I'll take a bet with anyone right now that NO PGA Tour player will win 5 in a row in the next 10 years.
The only thing counting against Annika is that she's on the LPGA Tour. For that reason, some will discount her accomplishments.